Today in amazing, St. Vincent just invented a guitar designed for the female body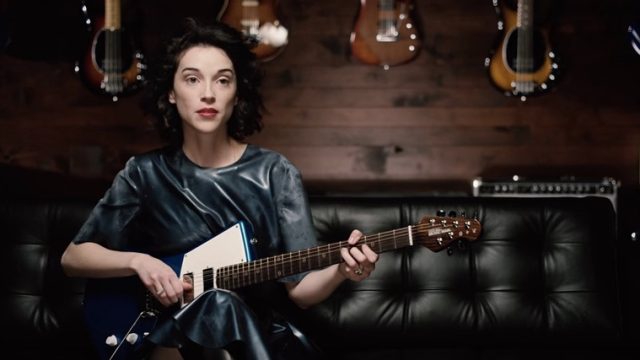 St. Vincent rocks hard, and that's one of the things we love about her. She's so insanely talented that Rolling Stone called the Grammy-winning artist "the smartest indie-rock star of her generation" in 2014.
Annie Clark—who uses St. Vincent as her stage name—is a lady rocker, yes, but she's created a signature sound that totally transcends gender. And she definitely doesn't believe that being a woman should inhibit her shredding abilities in any way. "If you have a great instrument you're going to play better," she told Guitar World. So St. Vincent teamed up with esteemed guitar-maker Ernie Ball Music Man to design a guitar that fits the female body far better than the models that are on the market.
With an extra thin waist and room for breasts, Annie's instrument is made for a person of a lighter average weight than most guitars.
"For me a guitar that is not too heavy is really important because I'm not a very big person," St. Vincent said to Guitar World. "I can't even play a Sixties Strat or Seventies Les Paul. I would need to travel with a chiropractor on tour in order to play those guitars. It's not that those aren't great guitars, but they render themselves impractical and unfunctional for a person like me because of their weight."
Of course, the design-focused musician didn't put out just any guitar: The modern-meets-retro silhouette is stunning and available in two colors, black or a gorgeous custom shade of blue inspired by a '67 Corvette that St. Vincent mixed herself.
A guitar can be so many things," St. Vincent says in a making-of video for Ernie Ball Music Man. "For me, in my life, it's been a shield, it's been a weapon and a vehicle by which I've gotten to have an incredible artistic and emotional life."
With a more female-friendly model, hopefully many girls will discover the same passion to shred with an instrument that encourages them to play better. Rock on, ladies!
Check out the Ernie Ball video below, in which St. Vincent takes us through the making of the guitar: