These St. Patrick's day photos from parades around the world will give you serious FOMO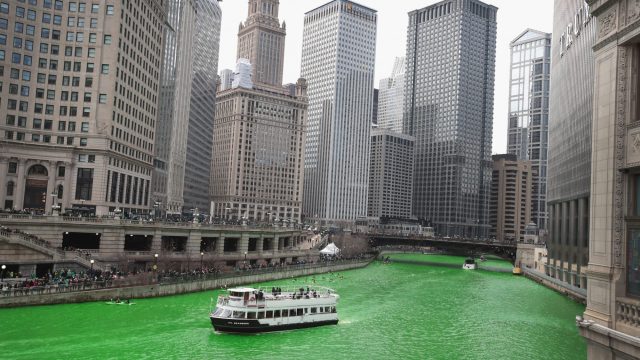 If you haven't celebrated St. Patrick's Day on a major scale, you're definitely missing out. However, we've got you covered with these St. Patrick's Day photos from various parades all around the world, and they're going to give you some *major* internet envy.
While St. Patrick's Day is definitely known for lots of shamrocks, green, and beer (not to mention green beer!), there's a lot more to this holiday than wearing "Kiss me, I'm Irish" T-shirts. In fact, St. Patrick's Day celebrations actually started nearly 400 years ago.
The Catholic Church established a feast in honor of Saint Patrick, the patron saint of Ireland who is credited with bringing Christianity to the Emerald Isle, way back in 1631. And the shamrock? It was reportedly used by Saint Patrick to explain the Holy Trinity — the Father, the Son, and the Holy Spirit — which is why it became a symbol of the holiday.
In 1737, Boston was the first city in the United States to host a St. Patrick's Day parade, with New York joining in years later. However, St. Patrick's Day changed drastically during the Irish Rebellion in 1798, which is actually when the color green first came to be associated with St. Patrick's Day.
Today's celebrations continue to embrace Irish traditions (with a few modern twists, of course). Check out these St. Patrick's Day photos and embrace *all* the green!
Dublin, Ireland
Mark Hamill appeared as the guest of honor at Dublin's St. Patrick's Day parade, and he seems to have had a ridiculously fun time at the event. We're more than a little jealous, tbh.
Dublin's parade also featured this totally adorable vampire known as Paddy Drac, who has apparently walked in the city's parade for the last fifty years. Talk about dedication!
Munich, Germany
Even Germany gets into the St. Patrick's Day spirit. The country held its parade a few days early, but we're totally here for it. Men in kilts with beards? Yes, please. false
London, England
London's parade featured a visit from Prince William and the Duchess of Cambridge, Kate Middleton. She's totally embracing that pregnancy glow, and we're getting some *serious* Scarlett O'Hara vibes.
Now let's check out some St. Patrick's Day photos from celebrations stateside.
Savannah, Georgia
Vice President Mike Pence visited Savannah for the city's parade, and we kind of love the protesters who brought festive (and peaceful) demonstration into the event.
Pittsburgh, Pennsylvania
Representative-elect Conor Lamb visited Pittsburgh's parade today after his narrow victory in the special House election in the heart of Pennsylvania, where Trump dominated in the 2016 presidential election.
Pittsburgh's celebration also included a giant potato, because why not?
New York City
We absolutely *love* that New York City brought Ireland's Taoiseach Leo Varadkar to celebrate St. Patrick's Day. Varadkar, is the head of government in the Republic of Ireland, walked in the parade with his partner Matthew Barrett.
Chicago, Illinois
When it comes to celebrating St. Patrick's Day, Chicago definitely goes big. The city has been dyeing the Chicago River green for 55 years, and the result is actually mesmerizing.
Regardless of whether you were able to join one of these St. Patrick's Day parades, we hope you had a safe and fun St. Patrick's Day! And if you're still feeling festive, have a green beer (or two) for us.