6 St. Patrick's Day games for adults who want shenanigans with their shamrocks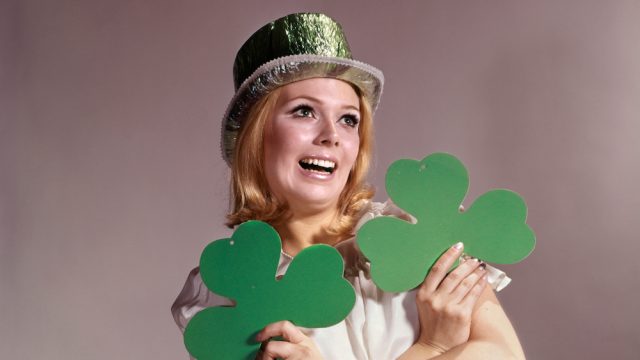 The countdown to St. Patrick's Day, March 17th, is getting down to the wire. By now, we hope you've pieced together your green wardrobe and are in the midst of planning your celebration. If a St. Paddy's party is in your future, we have some great St. Patrick's Day games for adults that will get your guests off of their feet as you challenge them to press their luck.
By adult party games, we mean games that involve drinking. The tradition of consuming alcohol (be it beer or Irish Whiskey) on St. Patrick's Day goes all the way back to the holiday's origins. According to Learn.Kegerator.com, historically, Christians were allowed to put aside their Lenten traditions on St. Patrick's Day in order to celebrate the life of the legendary Saint. That meant that Christian celebrants could consume meat and dairy, and drink alcohol for that one day.
As the celebration grew into more of a cultural holiday rather than a religious one, the Christian tradition of consuming alcohol stuck. So what was once a Christian exception to the rule became one of the most renowned traditions associated with St. Patrick's Day — drinking.
It's important to remember that the holiday isn't all about the alcohol. It's about celebrating St. Patrick, who brought Christianity to the Irish people, and it's about the Irish culture. But with that said, pour one out for St. Patrick and the Irish people, and celebrate with friends and family. Drink a few drinks, flaunt your green, and play a few of the following St. Paddy's Day games.
1Shamrock Shake
If you're looking to make your friends laugh on St. Paddy's Day, this game will surely get the giggles going. Attach long strings or pantyhose to empty tissue boxes (painted green for the occasion). Then, fill each tissue box with an even amount ping-pong balls or different kinds of treats.
Tie the filled-up boxes around your guests' waists and have them shake their groove thang until all the treats are out of the box. Pit two friends against each other to see who can shake all their treats out of the box first.
2Gold Coin Toss
Head to the dollar store and pick up a few packages of those gold foil-wrapped chocolate coins. While you're there, buy two or more leprechaun hats or, even better, cauldrons. At home, set the hats or cauldrons up a few yards apart from each other in the front lawn.
Divide your guests into two teams and have them try to toss coins into the other team's hat or cauldron. If the coins are different sizes, each coin can be worth different points. Alternatively, you can set up several cauldrons or hats with each one being worth a different amount of points.
The more "cheer" consumed, the harder the toss will get!
3Hot Potato Drinking Game
For this St. Patrick's Day game from ThriftyJinxy.com, you'll need a potato, Irish Whiskey or Guinness, and a shot glass for each participant. Have your guests fill their shot glasses with their drink of choice and form a circle around one person holding the potato.
Turn on some Irish music and have the center person pass the potato to another player in the circle. The potato should continue to pass from one player to another for as long as the music plays. Whoever has the potato when the music stops must take their shot and step out of the circle. The game continues until there is only one person left, and that person can claim winner, winner, corned beef dinner.
4St. Paddy's Day Beer Pong
Who doesn't love a classic game of beer pong? Ah, those flashbacks to college. To make a regular game of beer pong a little more St. Paddy's Day-appropriate, opt for green cups instead of the classic red. Fill the cups with Guinness and draw little Shamrocks onto the ping-pong balls.
It's simple, easy to play, and will get the whole gang involved.
5Pin the Hat on the Leprechaun
Here's how to turn the classic kids game of "Pin the Tail on the Donkey" into an adult-friendly St. Patrick's Day activity. First, draw your own hatless leprechaun on a large piece of poster board. You can also have one printed out at your local copy center. Then draw or print out a hat for your little guy, cut it out, and attach some sticky tape or putty on the back.
Have your guests attempt to stick the hat on the leprechaun while blindfolded. And if they miss, they have to take a shot. No peeking, people!
You can also switch up the image to your liking — Pin the Beer on the Leprechaun, Pin the Snake on St. Patrick, etc.
6Drinking Dice
This party game idea comes from GoodHousekeeping.com. You can buy a set of drinking dice from Amazon and have your guests press their luck with each roll. The set suggested by GoodHousekeeping.com has one die that suggests a task while the other suggests a location that amps up the task at hand. For example, one combo is "drink two beers at every bar."
Yeah, these dice can get you into a lot of trouble, so play at your own risk!
Have fun, play safely, enjoy your St. Patrick's Day, and hey — play a round for us, will you?