12 cheap and tasty ~green~ food deals you can get on St. Patrick's Day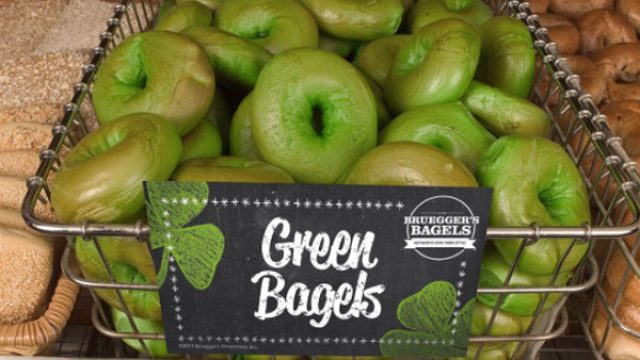 Grab your green, get your money, and prepare to sing and dance all day long…it's almost St. Patrick's Day! The Irish holiday is tomorrow, so you better be ready to channel your inner leprechaun. In honor of the holiday, we've found 12 St. Patrick's Day green food discounts (and normal colored foods) you need to know about.
Whether you're searching for your pot of gold, or want to just drink green beer all day, St. Patty's has a TON of deals to cash in on.
The Irish love to drink, have fun, and dance to Irish tunes, so why not do all of that without breaking the bank? Tomorrow, there will be numerous deals and fun food celebrations, and we've got a guide to help you with it all.
So, take some notes, get ready to eat, and don't forget to wear green. No one wants to get pinched!
1Bruegger's Bagels
Green bagels are back! Bruegger's annual batch of green bagels are available until the end of the day tomorrow. You can get a Big Bagel Bundle for $2 off with a coupon both today and tomorrow as well. Get the coupon here.
2Baskin-Robbins
According to People, you can now get an ice cream cake decorated with four leaf clovers, rainbows and a pot of gold. What's even better is that you can customize it with your favorite flavor, or mint chocolate chip if you're in the festive mood.
3Cracker Barrel
The fun, home-style restaurant is currently serving Corned Beef and Cabbage until March 17th. You can get the Irish favorite with carrots, potatoes, and biscuits or muffins for $9.99.
4Dunkin' Donuts
If doughnuts are more your style, try a Dunkin' treat. This month, the chain is offering round doughnuts with chocolate icing and shamrock sprinkles.
5Sugarfina
You can't have a St. Patrick's Day celebration without candy, right? Leave it to Sugarfina to create the cutest holiday boxes, including Irish Stout gummies, and Pot of Gold chocolates.
6Margaritaville
Drink all day long at Margaritaville this holiday! They have three speciality drinks available, plus LandShark Lager Fish & Chips to celebrate. Oh, and all of their green merchandise will be 17 percent off for the day.
7Krispy Kreme
Krispy Kreme is also getting festive this St. Patty's day with a twist on their classic treat. Instead of clear glazed icing, the company is going with green glaze on Friday.
8Carvel
There's always more room for ice cream! In honor of the holiday, Carvel is bringing back their Mint ice cream and shakes. Plus, for a limited time, you can order a Carvel Cookie O'Puss cake.
9Cheeseburger in Paradise
This restaurant is all about the deals. They have specials on green beer, green shakes, and Reuben burgers. Their Reuben burger combo (with green beer) is only $11.99. See there other awesome deals here.
10Hard Rock Cafe Hollywood
According to CBS Los Angeles, Hard Rock Cafe Hollywood Blvd. and Universal City Walk are the restaurants to be at tomorrow. In honor of the 30th Anniversary of the Irish band, U2's album "The Joshua Tree," there will be a great deal. On Friday, you can get a free Chef's Choice dessert if your name is Joshua (first, middle, or last). It's a St. Patrick's Day miracle.
11Bennigan's
It might be St. Patrick's Day all year at this Irish pub, but this Friday it's the place to be. There will be numerous deals, live music, and lots of fun at every location. Plus, some of the locations take the "Blarney Blast" to the next level with their sweepstakes that results in Free World Famous Monte Cristos for a Year!
12McDonald's
Who can forget about McDonald's? Even though it's not a deal, necessarily, you can't get a better St. Patrick's Day treat than at McDonald's. It's Shamrock Shake season, duh! Plus, this year they have a chocolate Shamrock Shake that you need to try.
https://www.instagram.com/p/BQ0rJtoFosU
Which St. Patrick's Day foods are you going to indulge in first? We vote for a green bagel, followed by dessert at McDonald's.