Ahh, too cute: A squirrel photobombed an engagement shoot in the greatest way ever
We would never think of showing up uninvited to a photo shoot, but clearly this squirrel that photobombed a couple's engagement photo shoot missed the memo on the ins and outs of wedding planning.
Rule #1, squirrel: It's NOT your day.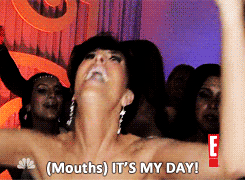 According to The Daily Dot, Kelin Flanagan and Spencer Taubner headed out to the Canadian Rockies in Banff National Park to shoot photos ahead of their big day. The B.D.F.K. Photography-led shoot had all the makings of a swoon-worthy affair: the scenic backdrop and the happy couple, but they had no idea that a squirrel would literally steal their shine.
"On our way back we saw a nice spot for the photos ― a kind of stony area. When we started shooting, the squirrel showed up," B.D.F.K. told The Huffington Post.
Judging by the surreal photo, the squirrel was in pursuit of a snack ― and the spotlight.
If there was a competition for best animal photo bomb, we'd have to rank this squirrel's hilarious close-up pretty high on the list. If it wasn't a wild animal, we'd totally say this squirrel deserves a wedding invite.