Sprinkles announced a golden cupcake for #NationalCupcakeDay on Thursday, and you could win a prize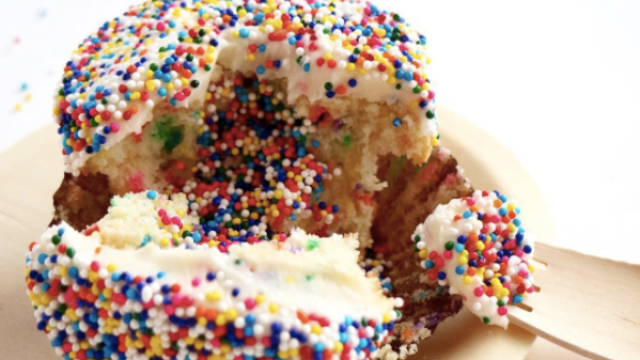 It seems like every day during the holiday season there are treats and sweets around every corner. And it's not slowing down anytime soon. Tomorrow everyone will be screaming, "let them eat cupcakes," because it's officially National Cupcake Day. That's right, Thursday December 15th, the universe isn't making it any easier to say no to delicious treats, because it's kind of mandated. Of course, cupcake giant Sprinkles is getting involved. They created a special cupcake that looks delicious. They also created a Willy Wonka-esque contest that promises a pretty awesome prize.
Sprinkles will be celebrating National Cupcake Day with a golden cupcake.
"Thursday is #NationalCupcakeDay and we're bringing you our most festive cupcake ever! Not only are we loading rainbow sprinkles inside the Sprinkle, one cupcake per store will have gold sprinkles hidden inside. Find the golden ticket… ahem, cupcake… win a $100 gift card!"
Wow, so many delicious things in one message. First of all, that sprinkle-filled cupcake looks amazing, and we'd like a dozen please. And second of all, golden sprinkles? That's totally reminiscent of the Willy Wonka "Golden Ticket," and we may have to buy a bunch to see if we can win. With one "Golden Cupcake" at every Sprinkles location, we feel like we have a pretty good shot. Plus, imagine the deliciousness we could buy with that $100 gift card.
Here's a preview of the Golden Cupcake, and yes please!
Yes, those are tiny golden heart sprinkles, and they may be too adorable to eat!
And of course, now we're craving cupcakes.
So join us in heading out for cupcakes tomorrow, December 15th for National Cupcake Day!