Spotify just removed all of R. Kelly's music from its playlists, and it's a start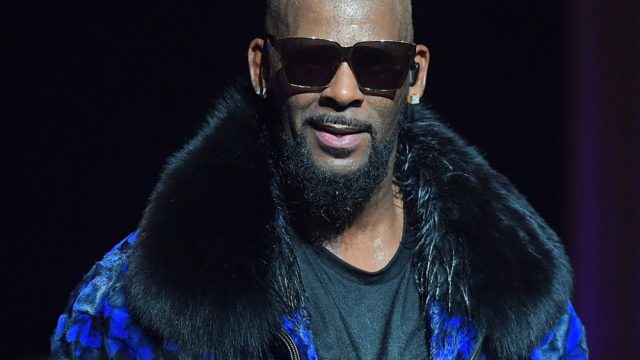 For years, R&B singer R. Kelly has seemed immune to the numerous accusations of sexual abuse that have been leveled against him. But lately, fueled in part by the conversation initiated with the #MeToo and Time's Up movements, Kelly's alleged crimes have resurfaced. On April 30th, prominent women of color involved in Time's Up called for businesses to #MuteRKelly. And now, it appears that streaming service Spotify has listened, announcing that it will stop promoting Kelly's music.
Spotify announced that starting today, May 10th, users will no longer find songs by Kelly on its curated playlists like RapCaviar, Discover Weekly, and New Music Fridays. The company told Billboard that, while listeners will still be able to stream Kelly's music, it will not be actively promoted. This change comes as part of Spotify's new Hate Content and Hateful Conduct policy, which aims to not only remove music that is considered hate speech but also to address violent or abusive behavior from artists like Kelly.
"While we don't believe in censoring content because of an artist's or creator's behavior, we want our editorial decisions — what we choose to program — to reflect our values," Spotify wrote in an announcement of the new policy. "So, in some circumstances, when an artist or creator does something that is especially harmful or hateful (for example, violence against children and sexual violence), it may affect the ways we work with or support that artist or creator."
Spotify is the first company to cut ties with Kelly. The singer's record label, RCA, has so far continued to represent him, and Ticketmaster is still promoting his shows.
Kelly has been accused of preying on underage girls, abusing his ex-girlfriends, and keeping women in a "sex dungeon." The allegations against Kelly date back to the 1990s, although the singer and his representatives have repeatedly dismissed them. On April 30th, in response to the #MuteRKelly movement, his representative issued a statement to BuzzFeed News describing the campaign as a "greedy, conscious, and malicious conspiracy to demean him."
Given that Kelly's alleged behavior has been public knowledge for decades, it's long overdue for the industry to take these allegations seriously. Spotify's decision to stop promoting Kelly may not mute Kelly for good, but it's a step in the right direction. Now, we just hope that other companies will follow suit.