Today in important: This bra will protect you against assault
Let us just go on the record by saying that clothing that protects women against harm is kind of a bummer — this stuff shouldn't have to exist in the first place. We've seen a lot of this stuff come to market in recent years, beginning with this company that created a line of anti-rape wear designed to prevent attackers from being able to remove your undergarments. There's also been a surge in different types of technology that also attempt to prevent rape, like the nail polish that can detect if your drink has been roofied.
On the one hand, products like these can prove to be useful, while on the other, you just kind of wish we could focus more on the very real problem. Still, when a new product is released, we can't help but be interested in it. After all, women still have a one in six chance of being assaulted. That's why today, we're talking about the Booby Trap Bra.

The Booby Trap Bra comes in two different models. The Just In Case Knife Bra ($54.99) features a pocket with a nylon neoprene protected sheath to store a little knife. The Just In Case Pepper Spray Bra ($49.99) comes with a pocket perfectly sized to hold a mini-can of pepper spray. (Knife and pepper spray additions are not included with the bras, but you can buy them on Booby Trap's website.)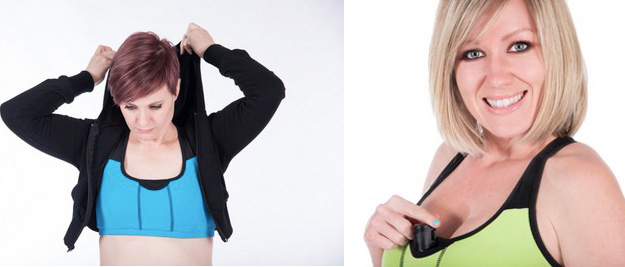 Inventor Jennifer Cutrona was inspired to create this bra after being attacked herself during a run (luckily, she escaped her attacker). This bra might not be the answer, but it certainly might help some women feel more secure on their runs, and could possibly even protect them from harm.