8 spooky and stylish accessories for those who can't get enough Halloween
We can't hide it anymore. Halloween is one of our favorite seasons. We love the costumes and the parties, the decorations and the candy. We want to celebrate Halloween the whole month long, but we can't wear a costume every single day. We started by finding stylish ways to decorate our nails for the season. We also love the idea of Halloween accessories, but accessories can be tricky. We don't want anything that looks too much like a costume. So, we put together a list of totally fabulous accessories that celebrate your spooky side, but are chic enough to wear every day.
1. This fabulous pumpkin necklace is chic, but with a hint of Halloween.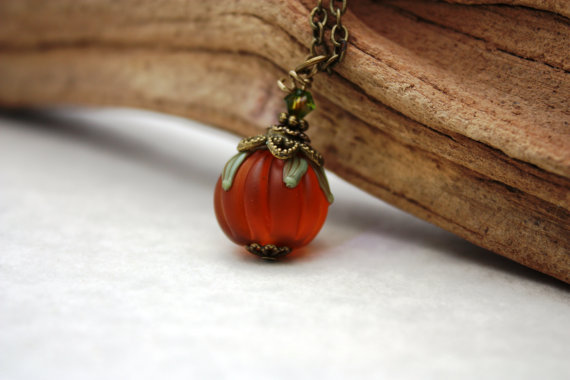 This necklace is perfectly subtle and chic. We love the deep orange color and faded green leaf details. You can find it on Etsy for $28.00.
2. These sterling skeleton earrings are totally to die for.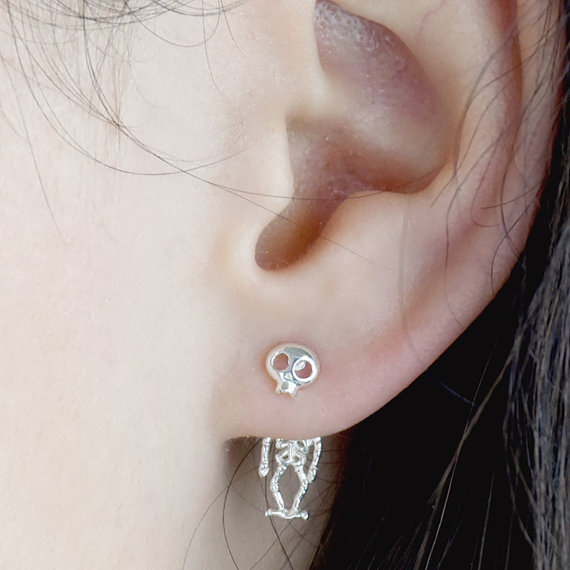 We love how these skeleton earrings hang both in front and behind the earlobe. These fun, sparkly bags of bones are available on Etsy for $16.30.
3.This stunning black lace choker adds a gothic flair to any look.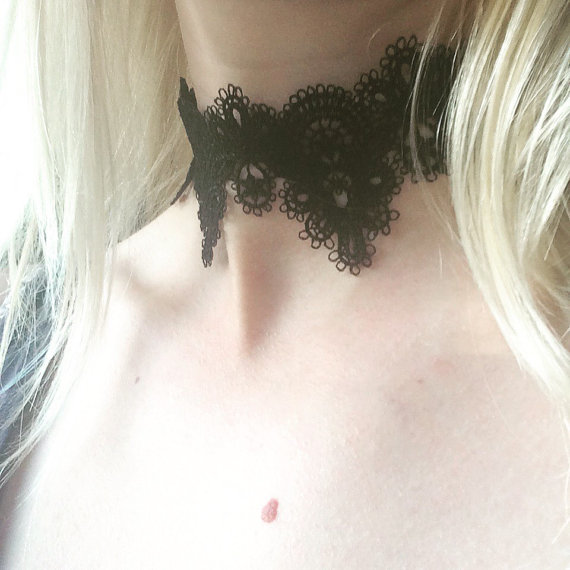 Chokers are everywhere these days, so why not add a bit of gothic flair to your everyday wardrobe? You can pick this look up on Etsy for $7.52.
4. This simple skeleton ring is subdued but still a little spooky.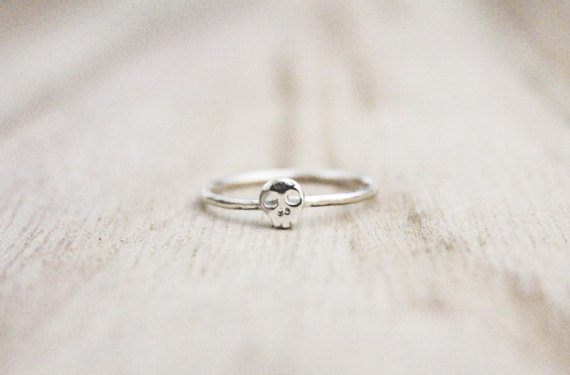 We love the rustic, hammered look of this delicate skull detail. You can find it on Etsy for $30.00.
5. This spiderweb pendant is equal parts fun and Halloween style.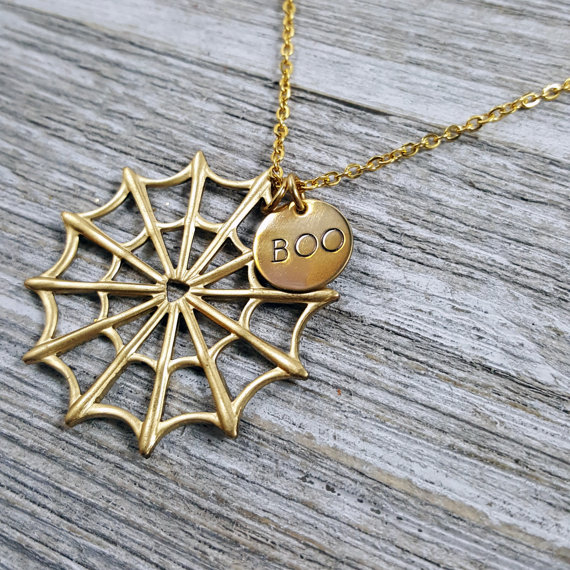 The chain is long and hits around the belly button, so it's the perfect accessory to pair with a fun t-shirt, Halloween themed or otherwise. You can order it off of Etsy for $20.00.
6. We're going totally batty for this chic copper cuff.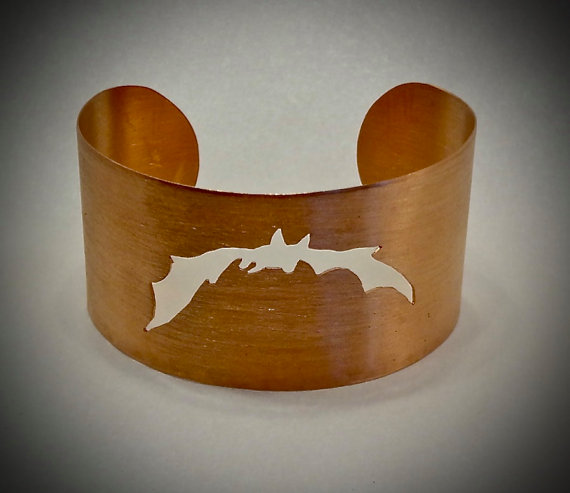 From afar it looks like a fabulous chunky copper cuff, but up close, you see the fun bat cutout that is adds just the right element of creepiness. You can pick this up on Etsy for $35.00.
7. We love the slightly dark edge to this pretty moon and owl pendant.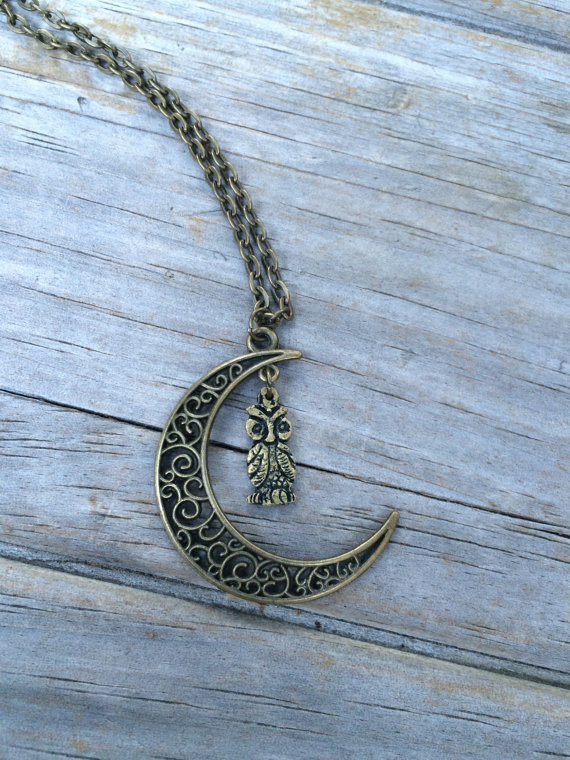 Both the owl and the moon are typical symbols of witches without being too overt. This pendant perfectly balances pretty with that little bit of sorcery. Find it on Etsy for only $27.00.
8. These totally sweet ghost earrings will haunt you with adorableness.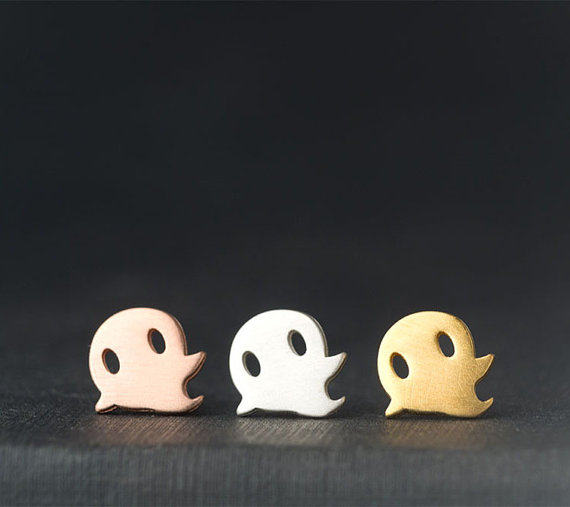 We love the playful round shapes of these adorable ghost earrings. They're a fun side of the Halloween spirit. They're available on Etsy for $23.00-$25.00 depending on the finish.
Hey, you can't blame us for wanting to show off a little Halloween spirit in our everyday wardrobe.
Yeah it is!