Celebrate International Women's Day and the importance of girls' stories with DreamWorks and "Spirit Riding Free"
"It's so important to not only put girls on the screen, but different kinds of girls," says Lauren Bradley, Script Coordinator for DreamWorks' Spirit Riding Free, an animated series on Netflix that has big fans in little girls. Spirit Riding Free is an empowering and action-packed show set in the Wild West that follows the adventures of Lucky, her wild horse, Spirit, and her two best friends, Abigail and Pru.
I was lucky enough to join DreamWorks Animation Television, the cast and crew of Spirit Riding Free, and 25 amazing young girls from Girls Inc. LA to celebrate International Women's Day at the television studio on February 13th. Girls Inc. provides elementary school-aged girls with education and enrichment programs, and on that day, these girls got insight into how an idea becomes a hit animated series — one that has women at the helm.
Following an episode screening of Spirit where we see Lucky win a horse race even though girls aren't allowed to compete in her Western town, the young ladies of Girls Inc. got to meet Aury Wallington, Executive Producer of Spirit, as well as Amber Frank (who is the voice of Lucky), Sydney Park (who is the voice of Pru), and the women animators behind the show.
I moderated a panel featuring Wallington, Frank, and Park, as well as script coordinator Lauren Bradley, animation artist Gabrielle Ray, and storyboard artist Kennedy Tarrell, where the kids of Girls Inc. talked about their own creative career aspirations (many want to be writers and artists) and learned how Spirit Riding Free gets imagined, written, animated, and produced. Next, animators Tarrell and Ray led the kids in an art lesson, sparking the excited young girls' creativity.
As Wallington told the young audience, "On Spirit, over half of the crew are women. We pick the best people, but you know, the best people were women."
Watch the above video from DreamWorks Animation to hear more from the cast and crew about the importance of representing diverse girlhood on screen — and see how much it meant to the girls of Girls Inc.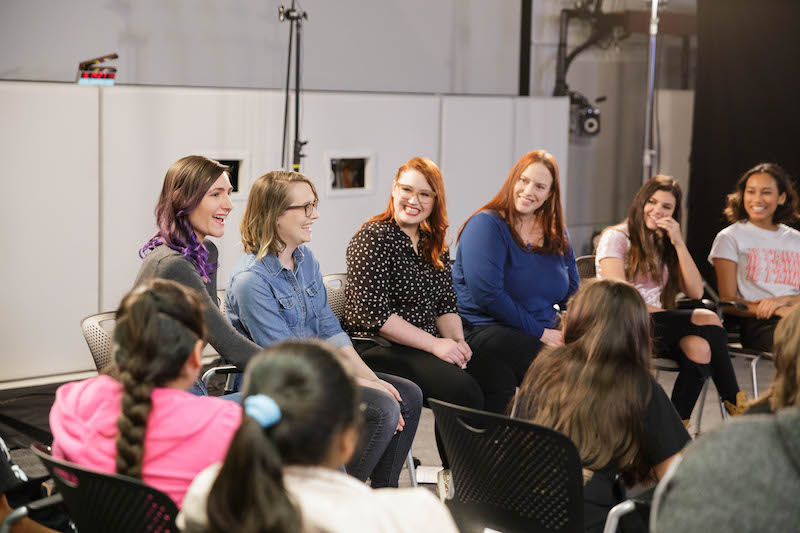 When discussing IWD's 2018 theme #PressForProgress in the video, Tarrell says:
"Press for progress means making a seat at the table, not only for yourself but for the women who come after you. It means mentorship, and it means pushing for yourself and for the young woman who you know will face the same challenges you did down the line."
And that's exactly why it's so important for those kids to have been at DreamWorks Animation Television studios that day.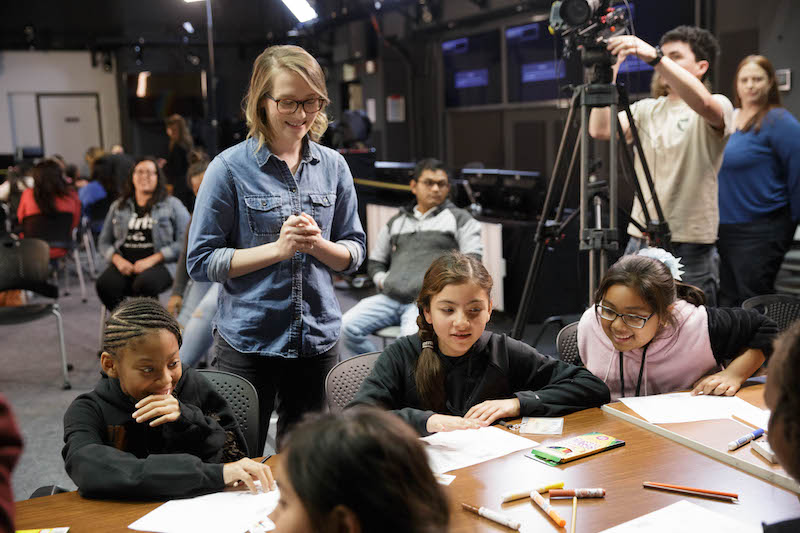 You can see the trailer for Season 4 of Spirit Riding Free below.
Spirit Riding Free returns to Netflix on March 16th. We're so thankful that young girls can watch Lucky, Pru, and Abigail and see themselves: bold, adventurous, supportive, fearless, and free.