Spike Lee is bringing back Nola Darling in a new "She's Gotta Have It" series on Netflix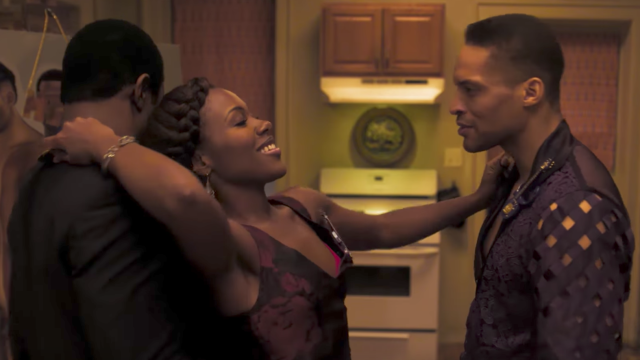 Thirty-one years after she first first appeared on the silver screen, Nola Darling is back, but this time on Netflix. The trailer for She's Gotta Have It, a TV remake of Spike Lee's first film of the same name, just came out, and this show exactly what the world needs right now.
The plot doesn't seem much different from the 1986 film, which is perfect for a TV remake. From the trailer, it looks like both feature Darling navigating polyamory and her relationships with three different men.
The only thing different about the new TV version, which premieres November 23, is that Darling now has an updated vocabulary with which to self-identify.
Right off the bat, Darling proclaims that she's a "sex-positive polyamorous pan-sexual."
And it already has our attention.
Darling, played byDeWanda Wise, goes on to explain, "monogamy never seemed like a remote possibility," which is an incredibly exciting thing for a female character to unabashedly say. Women should be able to have more than one partner without ever being disparaged due to sexist, slut-shamey, outdated ideologies.
She's Gotta Have It will be different, since Darling's juggling of three partners isn't something she's necessarily trying to "fix" or change, because women deserve sexual autonomy. A show that focuses on that fact is cause for a happy dance.
If you're thinking that Nola Darling sounds a lot like Sex and the City's Samantha Jones, their two shows will actually be very different, despite both taking place in New York City. While Sex and the City was great for its celebration of women's sexuality, She's Gotta Have It looks like it will be very career-focused as well. As Darling's therapist says in the trailer, "She's juggling a lot. Men, ambitions…"
It looks like those ambitions, which likely relate to her work as an artist, will be equally as important to her character as her romances are.
She's Gotta Have It isn't just going to be about career and relationships.
It also seems like it's more broadly about self-expression, introspection, and growth. Darling says, "I've gotta look within to feel what makes me happy," before she goes on to denounce the stereotypes people might easily assign to her.
"I'm not a freak, I'm not a sex addict, and I'm damn sure nobody's property," Nola confidently proclaims.
Umm, is this a dream? Watch the trailer for yourself and bask in Darling's empowering glory.
https://www.youtube.com/watch?v=whvPjWm7ZE0?feature=oembed
November 23 can't come soon enough.