Spike Jonze directed a "dance story" for Opening Ceremony's latest runway show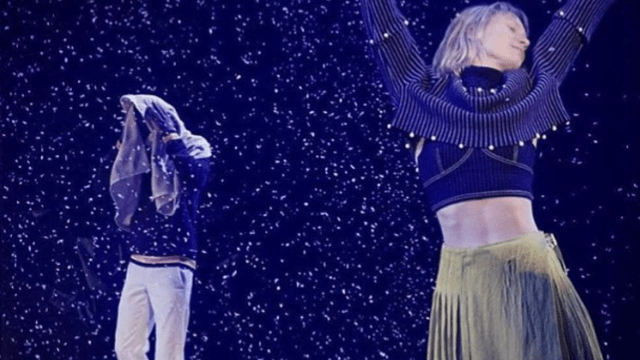 If there's one fashion week show where you can expect an immersive, not-fashion-fashion experience, it's Opening Ceremony. Staging everything from a resistance ballet to an alternative beauty pageant in seasons past, it comes as no surprise that this season's presentation was just as avant-garde.
This season, Opening Ceremony co-founders Carol Lim and Humberto Leon tapped director Spike Jonze to direct a "dance story" for the brand. Entitled "Changers,"the performance stars Mia Wasikowska and Lakeith Stansfield as they explore love, heartbreak, and the dynamics of the modern relationship.
Since this was still a fashion show, it also featured plenty of lust-worthy clothing.
"Changers," which took place at La MaMa in the East Village, created a story that incorporated clothing as thread that held the narrative together. According to i-D's piece on the collection, Lim says,
"The clothing is really integrated into the narrative and into the choreography. And together, all of it is a reflection of how these characters feel, how their emotions change, how their relationships change."
While there was no talking in "Changers," except for the poem scored in the beginning of the performance, the message was still loud and clear, thanks to the dancing and the clothes. There were jewel-toned kaftan dresses and boyfriend cardigans, millennial pink shearling jackets and highlighter-green matching sets.
https://www.instagram.com/p/BY–bWzHVPs
All the pieces added to the story of the show, and helped to define the characters who were wearing the clothing.
https://www.instagram.com/p/BY4c3hFHoGI
While we have some major FOMO for missing this performance, those of us in New York are in luck. "Changers" will run through at La MaMa through September 15th, with proceeds benefiting the Hurricane Harvey relief fund.