Spicy Skittles and Starburst are coming — here's when you can buy them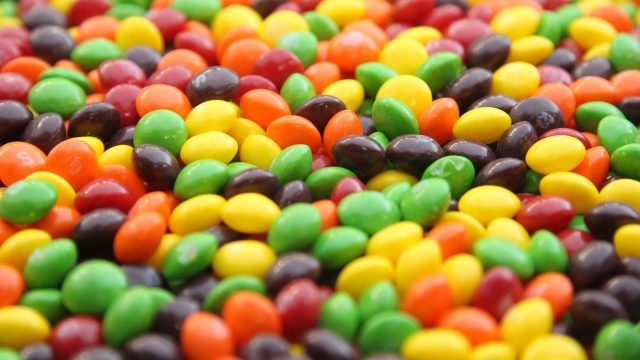 We don't know how you feel about candy with a kick, but Spicy Skittles and Starburst are here to help you make up your mind. Sweet, rainbow-inspired yumminess is an absolute yes, but candy that sets the mouth ablaze sounds like an acquired taste, tbqh.
According to E! Online, the fiery candies made their debut on Tuesday at the Sweets & Snacks Expo in Chicago, and all we can think is maybe people will finally give up the ghost pepper challenge.
The odds of that happening are shaky at best, but at least there are officially more food options for people who don't mind breathing heavily and sweating while they eat.
The spicy version of the classic candies are Skittles Sweet Heat and Starburst Sweet Heat, and they come in a variety of flavors.
The new sizzling Skittles flavors are Blazin' Mango, Fiery Watermelon, Flamin' Orange, Lemon Spark and Sizzlin' Strawberry. On the Starburst side of things, the flavors are Fiery Watermelon, Flamin' Orange, Pipin' Pineapple and Strawberry Mango.
As with anything new and fascinating, the internet has its opinions on these new candies.
Some people think the world is losing its collective mind.
https://twitter.com/udfredirect/status/867357006176374784
But other(s) believe the new spicy candies are the best thing ever.
So, yeah…we dunno how to feel about these candies either. We might change our minds when faced with the wrath of PMS, since spicy foods supposedly relieves period cramps, but we have until the end of year to come to a final consensus, when Spicy Skittles and Starburst hit stores in December.