Stop right now: The Spice Girls may be reuniting for a tour!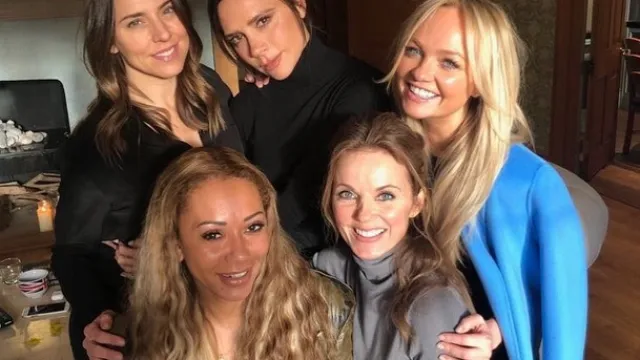 Are you sitting down? Good. Because there's a rumor going around that the Spice Girls may be getting ready to go on tour. All of a sudden, that meeting they had last week with their former manager Simon Fuller is starting to make sense…
Of course, before you go searching for dates and tickets, just know that nothing's set in stone at this point. While TMZ reported the news, the Spice Girls haven't confirmed it just yet. TMZ reported that sources say Victoria Beckham was hesitant for some time but finally decided that the reunion should happen. They also noted that Fuller would be with the ladies throughout the tour — which is expected to take place this summer — just like old times.
In case you need a refresher, here's a little bit of info on where the Spice Girls left off:
Back in 2007, they decided to go on tour after a long hiatus. It was the first time they performed again with Geri Horner (née Halliwell) after she initially left the band back in 2003. The group toured as a team of four in 1999 for their Christmas In Spiceworld Tour, but it simply wasn't the same — Horner brought so much additional girl power to the group.
It's hard to believe that it's been over ten years since they took the stage together, but if the rumors are true, we welcome them back with open arms.
Fans are already excited about the possible news, as the Spice Girls were a huge part of many of our childhoods.
In fact, some of us have been dreaming about a possible announcement like this for quite awhile.
Also, anyone else stoked for the merch potential here? The pop group was famous for selling everything from dolls to shoes back in the '90s. Maybe the Spice Girls lollipops will even make a comeback, too. (Please? Pretty please?)
We'll now be waiting impatiently for an official announcement from the ladies themselves.