The Spice Girls U.K. tour is set but, sadly, one Spice is staying home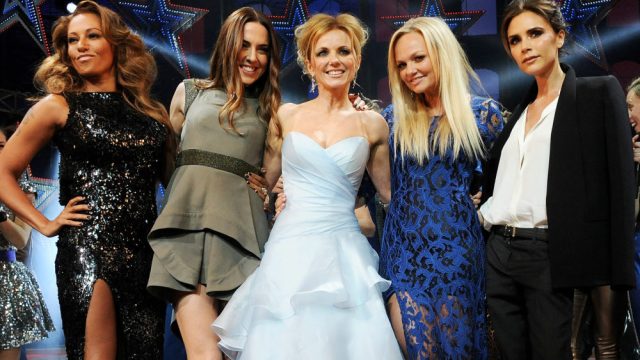 Every few months for the last year, we've heard rumors of a Spice Girls reunion. Any time the five women posed for a photo, it was like "Omigod, Spice Girls reunion!" Now, they're actually reuniting to perform several dates in the U.K.—except for Victoria Beckham, aka Posh Spice, who, apparently, isn't interested.
The Sun reported that Mel B, Geri Horner, Emma Bunton, and Melani Chisholm will reunite for a 13-date U.K. tour next year, which includes three nights at Wembley stadium.
Simon Fuller is reportedly orchestrating the whole thing and, according to a source, each member of the quintet will make around $12 million if the tour sells out. Apparently, there was a lot of back and forth among the members over the tour, which likely had to do with Posh. It's unclear why she dropped out, but we're not shocked by her decision.
Fuller previously told Global News in 2016 that Posh "didn't feel comfortable" in the band.
"When the Spice Girls broke up, she had a few songs as a solo artist but she wasn't happy and she said to me 'Simon, I just don't want to do music anymore. What do you think I should do?'" Fuller explained.
Beckham also revealed in an interview with The Telegraph that the producers would often mute her mic during live shows.
While the tour reportedly doesn't start until 2019, Mel B recently announced that she's checking into rehab after being diagnosed with post-traumatic stress syndrome. She told The Sun that she has been struggling with sex and alcohol issues, and added, "I am working on being a better version of myself for my kids—whom I love more than life itself―and for all the people who have supported me."
We support all the Spice women on their various journeys and cannot wait for the official announcement of the long-awaited reunion tour.