The Spice Girls just announced an official reunion tour—but one member won't be joining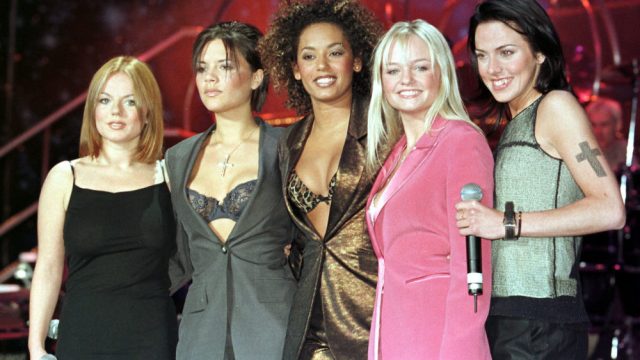 Get ready to spice up your life, because the Spice Girls are going on tour next year…for real this time! For the last several months, rumors of a Spice Girls reunion tour have been swirling—fueled in large part by Melanie Brown. But this time it seems it's actually happening. This morning, November 5th, the iconic girl group made things official, announcing a six-date U.K. tour next June with Jess Glynne.
But Melanie Brown, Geri Horner, Melanie Chisholm, and Emma Bunton announced the tour in a hilarious video posted on Twitter:
The video didn't address Beckham's decision to sit the tour out, but the Guardian reported that she did send her love to her former bandmates in a statement. The fashion designer also took to Instagram to voice her support for the tour, and it seems there's no love lost between Beckham and the rest of the Spice Girls.
"Today marks a special day for the girls as they announce the first tour dates since we performed together in 2012!" Beckham wrote. "I won't be joining my girls on stage again but being in the Spice Girls was a hugely important part of my life and I wish them so much love and fun as they go back on tour next year."
She continued, "I know they will put on an amazing show and the fantastic fans past and present are going to have a wonderful time!"
We're still holding out hope that Beckham will at least make an appearance during the tour—even if we don't get to see her burst into "Viva Forever." The group has yet to announce plans for tour dates outside the U.K. But when they do, it's safe to say we'll be there.