These Spice Girls reunion instagrams are cracking us up today
Like so many of us, I was a huge Spice Girls fan in the '90s, fighting over who got to be which Spice Girl during playground games and watching and rewatching Spice World on VHS (an underrated CLASSIC, I tell you). Now that it's been TWENTY YEARS since "Wannabe" was released back in 1996, it totally warms my heart to see that the Spice Girls are still good friends.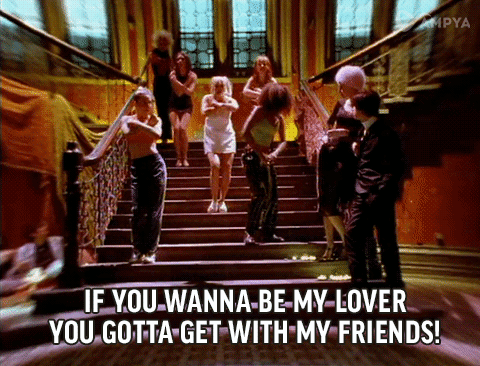 And just like with all good friends, things can get pretty silly when the Spice Girls get together.
Yesterday, Geri Halliwell (aka Ginger Spice), Mel B. (aka Scary Spice), and Emma Bunton (aka Baby Spice) shared some adorable videos on Instagram showing the three Spice Girls goofing off around the house during a girls' night.
Geri posted a video showing Mel and Emma popping into the frame for some "kitchen disco" (we wish we could have seen what went down in that kitchen!):
Mel B. shared a video showing the three friends making silly faces — with a banana perched inexplicably on Mel's shoulder.
"it's not a chip on my shoulder it's a Banna," she wrote.
Emma shared a video that shows Geri lifting a sandwich, Mel pretending to gulp down a whole bottle of wine, and herself raising a "Mummy" mug.
"On a Friday night all you need is tea, cake, wine and friendship! #girlpower," she wrote.
Now those are words to live by! Can someone print that on a mug for us please? And hey, Spice Girls — invite us next time?