The Spice Girls movie is returning to theaters for a special reason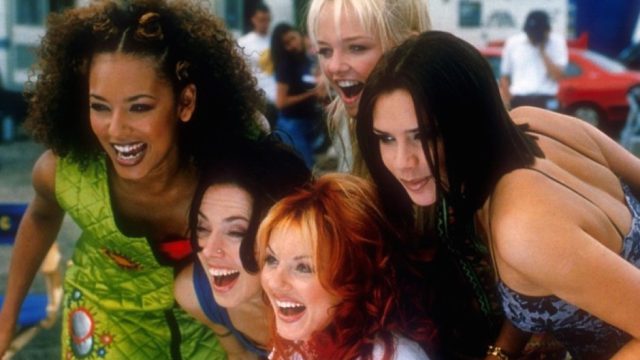 Hi-ci-ya, hold tight because, in honor of its 20th anniversary, Spice World is coming back to theaters! Now before we get your hopes up too too high about seeing the Spice Girls movie in theaters, we have to let you know one major thing right off the bat. The July 31st announcement on the Spice Girl News Facebook page states that, as of right now, these viewings will only be in the Spice Girls' homeland (that would be the U.K.). But if you live in the U.S., you can still be happy for your fellow Spice Girls fans in Britain — and continue to hold out hope that America will eventually get the same 20th anniversary gift.
The Facebook page Spice Girls News is responsible for organizing this epic event that will let Spice Girls fans relive all the zaniness that Posh (Victoria Beckham), Scary (Mel B.), Baby (Emma Bunton), Sporty (Mel C.), and Ginger (Geri Halliwell) went through during the 1997 movie. The screenings of Spice World will take place all over the U.K. on Friday, September 29th, and tickets are available now until Sunday, September 24th.
Unsurprisingly, the tickets for seeing Spice World in theaters are going quicker than you can say, "Zig-a-zig-ah."
Whether you saw Spice World in the theaters originally or only watched it on a well-worn VHS tape, seeing Posh, Scary, Baby, Sporty, and Ginger up on the big screen is the perfect way to celebrate over two decades of the Spice Girls.
Now, if you're in the U.S. and still bummed that you aren't going to be able to see Meat Loaf combining forces with the Spice Girls in a movie theater, there's reason to hope. In the announcement, Spice Girls News wrote:
"At the moment this is just for cinemas in the U.K. but we are hoping to organise something for fans across the world soon."
Even if Spice World doesn't make it to theaters in America, you can still spice up your life by hosting your own viewing party. We promise, it will always be magical as long as the Spice Girls are involved. Viva forever.