The Spice Girls will reunite for an animated superhero movie, and this is what we want — what we really, really want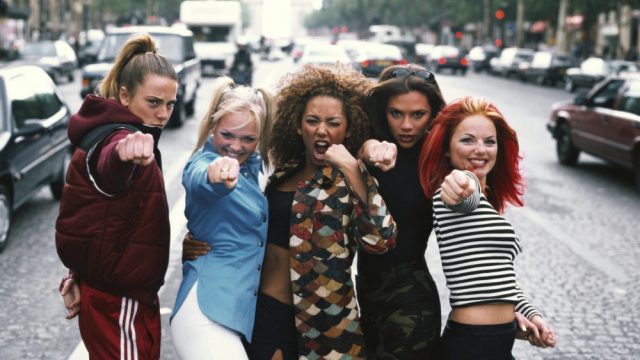 The Spice Girls may not be reuniting for another tour anytime soon. BUT, it appears the Spice Girls will be coming together to bring girl power to a new animated superhero movie.
In February, rumors were circulating that the iconic '90s girl group would be reuniting on tour, after posting photos together with manager Simon Fuller. In 2012, all five members of the group — Victoria Beckham (Posh Spice), Emma Bunton (Baby Spice), Melanie Brown (Scary Spice), Melanie Chisholm (Sporty Spice), and Geri Halliwell (Ginger Spice) — reunited on-stage for the closing ceremony of the London Olympics, prompting an onslaught of reunion rumors in the years since.
Beckham, quickly quashed tour rumors, telling Vogue, "I'm not going on tour. The girls aren't going on tour."
But while they weren't meeting up to plan a tour, in a statement, the girl group revealed that they were meeting to explore possible new projects that would promote the group's longtime "message of female empowerment for future generations." 
According Variety, which broke the news, all five Spice Girls members have signed off on their likeness being used in the movie, which is in very early stages, and will be voicing a character. The news comes just days after Brown coyly teased a reunion, telling reporters at an America's Got Talent event, "I can't say anything, but you definitely will see us, all five, back together this year. And not just in Geri's front room!"
Brown also recently revealed on The Real that she and the other four Spice Girls will attend Prince Harry and Meghan Markle's May nuptials, prompting rumors that the group would perform at the royal wedding.
Whether or not the iconic girl group is planning to serenade the Queen and the rest of the Royal family in May, it appears they're just getting started with a new, potentially global franchise.
Variety cited a source claiming that the animated film is just the beginning of a new phase of global dominance for the Spice Girls. They wrote, "The Spice Girls are thinking big in terms of a franchise on a global scale. They're the most successful girl group on the planet. It's just what Marvel or Disney needs."
Whatever the Spice Girls have planned for the future, we promise we'll be there!