Stop what you're doing, there's an actual galaxy inside this birthday cake
We've seen numerous desserts that we would place in the "out of this world" category, but this adorable space-themed cake with a galaxy inside has us over the moon. Fine, we'll cool it with the space puns, but we absolutely cannot chill about this cake. It is probably the closest we'll get to having a party in outer space.
Imgur user Pedagiggle is responsible for this intergalactic awesomeness in food form, and it's basically one of those cakes that are so beautiful, you *almost* don't want to eat them.
As Pedagiggle writes, the colorful cake is vanilla flavored and consists of fondant and buttercream. The decorations are all hand-painted with food coloring.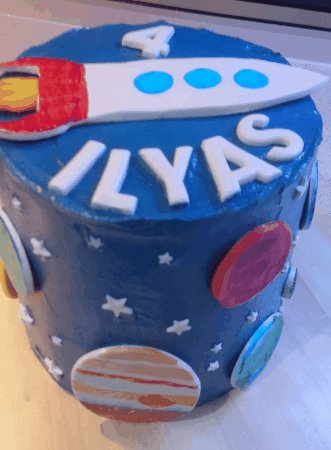 And here's a look at the inside, which is equally charming.
The birthday cake also came complete with complementary astronaut and rocket cookies, plus a batch of Star Wars cookies that not even Darth Vader could turn down.
After receiving a ton of interest in this display of extreme culinary creativity, Pedagiggle was kind enough to share the detailed instructions for the galaxy cake, which are posted on the site. The planets require white cake mix and different types of food coloring for each orb, while the galactic inside is basically a marble cake recipe with food coloring mixed in. Finally, the outer portion of the cake is decorated with frosting, and needless to say, we are beyond obsessed with the final product.
We have a long-running to-do list of delicious desserts we need to bake ASAP, but the space-y cake just might take priority over all the rest.