Here's the soundtrack you need to relive the DCOMs of your childhood
There's nothing quite like the heart-warming experience of watching a Disney Channel Original Movie. You're taken into a world of adventure, friendships, magic, and (of course) amazing music.
It's totally transformative. And soon, you'll get to relive all your favorite moments through their popular songs in one centralized DCOM soundtrack. Which has us feeling like…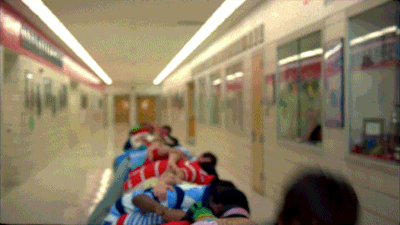 The soundtrack (perfectly titled Your Favorite Songs From 100 Disney Channel Original Movies) will be released on May 27, so you'll have to wait a little longer to get all these fun hit songs in once place. But once the soundtrack is released, well, I'm gonna let Camp Rock say how it's going down.

The soundtrack will include the most iconic songs from the most popular of all Disney Channel original movies. Which will of course mean Kim Possible, The Cheetah Girls, and (of course) High School Musical will all be represented.
Looking at the list, it's actually really impressive how many amazing movies The Disney Channel has brought us over the years. And while we're excited for the chance to rewatch them in Disney's upcoming, four-day marathon, having the musical soundtrack at our fingertips will help continue to keep us feeling all the warm fuzzies even if we're just rocking out on the treadmill or driving around in our car.
Needless to say, we're super excited about the soundtrack. May it help people everywhere to reach their cheetahlicious potential.