Watch Sophie Turner go shopping in this deleted "X-Men: Apocalypse" scene
If you're a fan of the X-Men films, chances are you know about the mall scene that was ultimately cut from X-Men: Apocalypse. It was even rumored that a still from the scene teased a Taylor Swift cameo. However, Taylor Swift didn't appear in the film, and neither did the scene itself – which is a shame, because it's AMAZING.
We know this, because we've now seen it with our own eyes.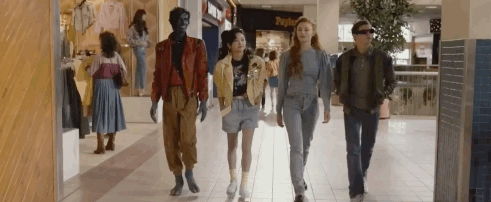 The scene in question takes place when Jean Grey (Sophie Turner), Cyclops (Tye Sheridan), Jubilee (Lana Condor), and Nightcrawler (Kodi Smit-McPhee) leave their secluded sanctuary at Professor X's estate and go to a local mall. What follows is a scene of unadulterated '80s goodness, in which the gang visit an arcade, drink Slurpees, and even see a movie. false
Shared by Ladies of X-Men, the scene is so good, you'll want to watch it multiple times and bemoan its exclusion from the film – it's easily the most fun any of the characters get to have in a movie that otherwise typically holds world-ending stakes (It's also nice to get more of Jubilee, whose part in the theatrical cut is rather small).
Set to the song, "Safety Dance," the expertly edited clip features the foursome enjoying something mutants rarely get: normalcy. This is especially true for Nightcrawler, the only one of the gang who is clearly a mutant. Early in the clip, he observes with wonder in his voice that the other people at the mall don't fear the group, and his earnestness makes you feel feelings. Later in the clip, random people take notice of him, but always with appreciation of his otherness rather than fear. Mostly, though, people just leave the young mutants alone – which is ultimately a more powerful form of acceptance.
The delightful clip ends with the group leaving after seeing Return of the Jedi; Sophie Turner as Jean quips, in a tongue-in-cheek joke, that the third film in a trilogy is always the worst — we see what you did there, X-Men.