Sophie Turner posts pouty throwback photo with Kit Harington and now we're missing "Game of Thrones" even more
Sophie Turner and Kit Harington reunite — sort of! Turner just posted a pouty throwback with Harington from the Emmys and it is giving us all the feels.
The Game of Thrones co-stars have always been friends off screen, which we knew, but this recent Instagram photo just proves they have a lot of fun even when they're not filming the HBO series — although we wouldn't mind watching them on screen with new adventures in Westeros.
"Post-Emmys Pout-off 👍#tbt," Turner captioned the goofy black-and-white photo, which shows a sassy blonde Turner and an ever-so dreamy Harington.
Okay, we get it Sansa Stark and Jon Snow are besties in real life, now when can we watch more Game of Thrones? Sadly, the series doesn't return for Season 7 until summer 2017, so this cheeky pic will have to tied you over until then.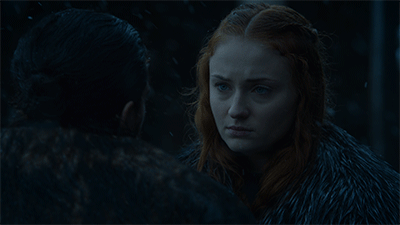 If you can't handle life without new Game of Thrones episodes and more moments involving your favorite characters spending time together, we have more photos to make this long GOT drought more bearable.
Winter is coming after all, so you might as well have funny photos of Turner and her TV pals to make you smile.
In fact, last week, Turner posted another black-and-white picture, this time with Alfie Allen who plays Theon Greyjoy on the drama series and we can't get enough.
Seriously, how do we get invited to these hangouts?
Our favorite GOT off-set photos however, involve Turner and her BFF Maisie Williams, who plays her on-screen sister -- and total badass -- Aria Stark.
Really, could these two get any more adorable?
They clearly love one another, which makes us love their friendship and the series even more.
https://www.instagram.com/p/BKTrg1jhb1M
Come back Game of Thrones, it's been too long!