Sophie Turner blamed one of her fellow Northmen for the notorious Game of Thrones coffee cup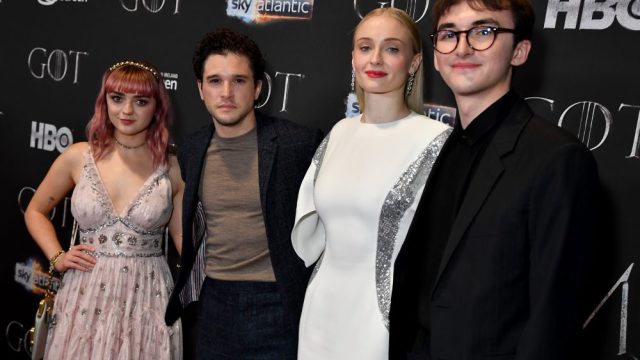 Game of Thrones Season 8 ended the HBO series with fire and blood. But all of the deaths, dragons, and plot twists couldn't make fans forget about the now-notorious Starbucks cup that somehow made its way to Westeros. The cup caused serious drama, and viewers theorized about who could have been responsible for its appearance. Emilia Clarke has defended herself against the accusations, and now, so has Sophie Turner—and she's pinning the blame on someone else.
During Turner's recent appearance on Conan, host Conan O'Brien asked her about coffee cup-gate. The 23-year-old actress was understandably salty that people are still talking about it.
"I hear this every day of my life, this coffee cup thing," Turner said. "It's good to know that the coffee cup got more press than the final season altogether, but it's fine."
But Turner did have her thoughts about who was responsible. She blamed none other than her onscreen brother (err, cousin), Kit Harington, for the incident.
"The coffee cup was where Kit [Harington]'s chair was," she continued. "At first I blamed it on Emilia, but I don't think Emilia would do that. Kit is lazy and I think he would have done that. It was in front of Kit's chair and then obviously he moved so this picture was taken and it looked like it was in my seat, but I wasn't there either. It was Kit. It was a hundred percent Kit."
The actress went on to explain that she tried to avoid drinking liquids while filming.
Since her costume required her to wear a corset, she said that if she drank too much, it was bad news (we'll let your imagination do the work there). Clarke also wore corsets on set. But you know who didn't? Harington. It seems like the case is closed. In the words of Ygritte, "You know nothing, Jon Snow."
Turner's story seems like it checks out, but as we all know, Westeros is full of deceptions. Could the new Queen in the North be lying to defend her honor? It looks like only time will tell.