Sophie Turner says being with Joe Jonas "saved" her life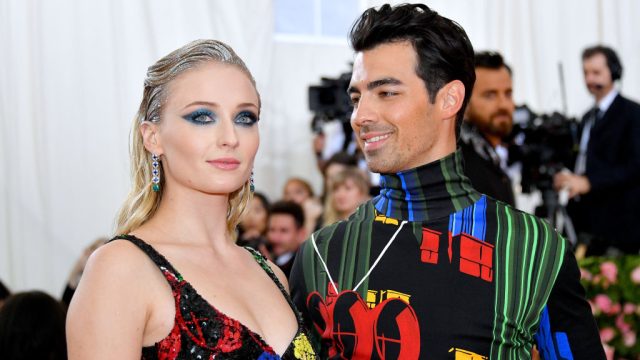 On May 1st, Sophie Turner and Joe Jonas attended the 2019 Billboard Music Awards, during which Jonas performed. After a quick outfit change, they tied the knot in a whirlwind Vegas wedding (officiated by an Elvis impersonator, of course). It was perfect. Now, Turner is getting more candid than ever about how much her new husband really means to her.
Turner, who just completed a 10-year run playing Sansa Stark on Game of Thrones, recently opened up to The Sunday Times about how Jonas "saved" her life.
"I was going through this phase of being very mentally unwell," she told the publication, Cosmopolitan reports. "[Joe] was, like, 'I can't be with you until you love yourself, I can't see you love me more than you love yourself.' That was something, him doing that. I think he kind of saved my life, in a way."
We're weeping—no, sobbing. This feels like something out of a Nicholas Sparks novel.
Turner has been transparent about her struggle with depression, which began while she filmed Game of Thrones during her formative teen years.
She started playing Sansa at the age of 13 and had a hard time dealing with negative backlash from fans pertaining to her weight, skin, and even her acting. Things got so bad that she stopped getting her period for a year, and that's when she decided it was time to go to therapy.
"I was too aware of my body at a young age," she said in the interview, Harper's BAZAAR reports. "It just kind of took over my mind, it was all I would think about. Calorie counting, everything. 'Oh, I'll just eat nuts today.'"
Turner also shared that she and Jonas broke up for single day during their engagement.
"It was the worst day of our lives," she said. "For a second we both had cold feet, then 24 hours later we were both, like, 'Never mind.'"
Thank goodness that didn't last. We can't imagine a more perfect, fun-loving couple than the Turner-Jonases.