Read Sophie Turner's powerful response to critics of her marching in a Black Lives Matter protest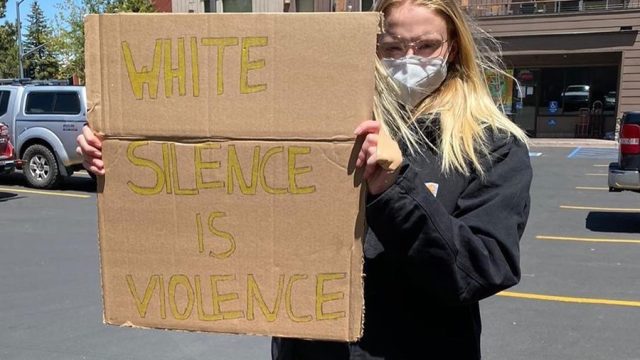 Over the weekend, Sophie Turner joined the thousands of protesters across the globe—including plenty of celebrities, like John Boyega, Keke Palmer, and others—to support the Black Lives Matter movement. Turner shared photos and videos from the protest in Los Angeles on Instagram on Sunday, June 7th, and while plenty of the comments were supportive of Turner's decision to protest, others voiced their criticism—and Turner had some powerful words for those critics.
The Game of Thrones alum shared photos and videos of fellow protesters laying down as well as taking a knee and holding up their signs and chanting "No justice, no peace." (Kneeling serves a symbol of both the peaceful sign of protest begun by Colin Kaepernick as well as how George Floyd died, after former officer Derek Chauvin pressed his knee against Floyd's neck for eight minutes and 46 seconds.)
Turner also shared a photo of herself holding up her handmade sign, which read "white silence is violence."
While many followers offered up support of Turner for joining the crowds and sharing some snippets on social media, others responded with all kinds of negative commentary—but Turner was understandably not having it.
It seems the comment (and Turner's response) has since been deleted, but one fan captured a screenshot and shared it to Twitter, captioning the shot, "Sophie Turner said our watch hasn't ended."
"I mean they've been arrested and charged with murder so there's justice, soooo can we have peace now?" one follower reportedly wrote beneath her post, seemingly referring to the three other officers who were present at the time of Floyd's death and who were officially charged on Friday, June 4th.
Turner reportedly responded to the comment, writing, "This isn't just about those 4 cops, this is about Breonna Taylor, this is about Trayvon Martin, this is about Eric Garner, this is about the systemic racism that black people have faced for hundreds and hundreds of years."
"This is about changing the system," Truner wrote. "Justice will be done when society reflects our beliefs that we are all equal. Until then there should be no peace."
Turner's husband, Joe Jonas, also shared videos and photos from their time at the protest, encouraging his followers to "listen and learn."
Turner and Jonas are displaying how to show up as allies to the Black community, and Turner, clearly, won't let trolls try to change the message.