Sophie Turner took the most beautiful photo with an adorable "Game of Thrones" fan
Things are in FULL swing on Game of Thrones Season 7 filming in Northern Ireland. We've gotten glimpses of some of our favorite Thrones characters on set as well as some serious theory-fueling sightings, too. However, there have been plenty of fun actor run-ins throughout Belfast, and the latest one will make you say, "awwww!"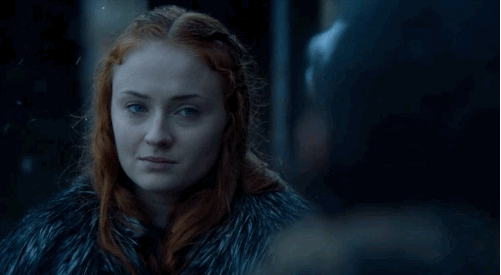 Sophie Turner, aka Sansa Stark, is certainly no stranger to awesomeness. We've seen her be adorably cute with BFF Maisie Williams (Arya Stark) about a million and one times, and she's also come to the defense of some other amazing ladies we heart, like Emma Watson. And now, because she truly is an amazing human being, Sophie has taken this…
…The most beautiful photo with an adorable Game of Thrones fan.
And we are LOVING that caption: "Silver & Gold."
This perfectly captured moment of pure joy is something that would warm any Notherners heart, even those closest to The Wall (ha!). But in all seriousness, we love this image because it reminds us how much appreciation the entire cast of Game of Thrones has for its incredible fanbase.
And it looks like this lucky Thrones fan got to meet all the other (remaining) Starks, too!
Like Arya…
…and Bran…
…and someone who will never, ever be a Stark (as much as he wants to get with them), Littlefinger.
Starks forever!