Hero alert: Sophia Bush helped save two complete strangers!
Gus and Jessie were a young couple driving across the country with their trailer home in tow, when their car broke down and their trailer almost went over a cliff. They were totally stranded in the middle of nowhere. Oh, and did we mention they were on their way to their WEDDING?!
Cue QUEEN Sophia Bush. She shared the couple's post about their situation on Instagram, urging car companies to be heroes and help the couple out.
Actress Constance Zimmer — taking a cue from her friend Sophia — also chimed in, contributing her star power to the cause.
A friend of Gus and Jessie soon created a GoFund me page to help the couple out, which Zimmer also shared on her page. "Wanna help a stranger today? It feels good, trust me…," she Tweeted.
In addition to the tons of attention the story received thanks to the help of a little celebrity fuel, Gus and Jessie have been gifted over $3,500 in donations (which will surely help towards repairing that trailer), and Audi supplied them a brand new Audi Q7 to ensure they make it to to their destination.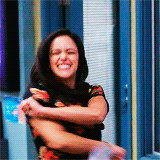 Sometimes the world surprises us in the best way possible, and this is definitely one of those times. And major kudos to Sophia Bush and her gang — way to bring some goodness into the world!