Sometimes Carrie Underwood feels guilty about her son's life — this is why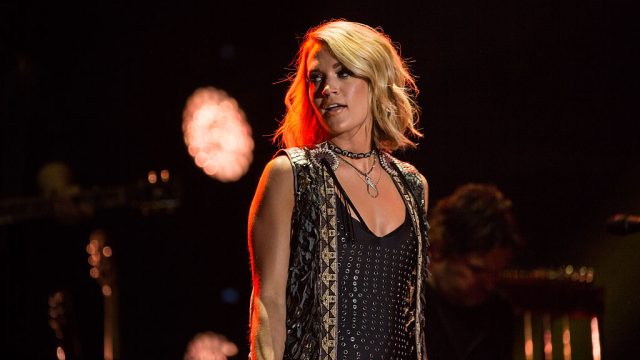 Let's face it — motherhood, as great as it is, can feel overwhelming at times. It's especially challenging with a firstborn in the beginning stages as you're learning how to navigate the new journey ahead. Carrie Underwood — country singer and mom to young son, Isaiah — knows exactly what we're saying. As cover model for Redbook magazine's November issue, on stands October 18th, Underwood reveals all she's learned since becoming a mother, why she sometimes feels guilty about her son's life, and possible plans for future children with husband, Mike Fisher. When asked what piece of advice she'd give to working mothers, her response is perfect.
"Ask for help. Accepting help is hard for me, but I'm learning. Sometimes I feel guilty that this is my son's life: We live on a bus and we're in a hotel room and sometimes we're in the middle of nowhere and it's not so great. It's not all glamorous."
While that doesn't sound all bad, we understand where she's coming from in terms of her son's setting. It's long been theorized routines are an important part of a child's daily schedule to create security and to boost self-esteem, which is why Underwood and Fisher have a nanny on hand when they're on the road to combat the chaos. Though, Underwood much prefers to do these things herself when at home.
"We have a nanny who helps out, especially when we're on the road, but I'd feel guilty asking someone to watch him at home while I run to the grocery store."
It's a struggle a lot of moms face — to ask for help or not to ask for help — and to be honest, it only makes Carrie that much more relatable. And because after one child, the question often comes up when the next one will come along, here's how she responded:
"If my husband were at the beginning of his career, I'm not sure we could handle it. Since he's kind of nearing the end and won't be traveling so much, we're like, 'We can figure it out for not that long.' You make it work."
She goes on to add, "When I was pregnant, I thought, 'How am I going to go on the road? How am I going to keep doing my job?' I had to just give it to God and stop worrying about it. Sure enough, we figured it out."
While they're not currently sold on the idea to have another baby (one child is a lot of work), it's obvious how much she adores Isaiah in the way she talks about him.
"I definitely feel like it's changed me as a person. I'm happier. I'm in a better mood a lot of the time. He'll be watching cartoons and I'll be watching him. I'm completely in love. I love it when he's sleepy and I get to hold him and smell him. He doesn't know I'm staring at him and being all googly-eyed!"
Regardless of whether or not there will be any other Underwood-Fisher babies in the world, or how life on the road goes, we're sure with a mom as real as Carrie, this little one is doing just fine. Way to go!