Someone replaced Trump with his Disney animatronic in photos, and LOL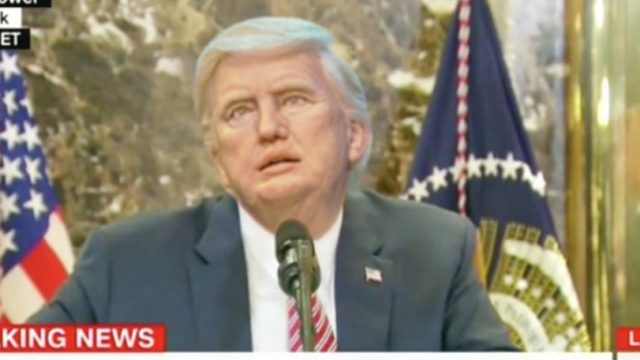 If you're a fan of Disney and hilarious things, you probably saw the news about Disney World adding Donald Trump to the Hall of Presidents. The Magic Kingdom attraction, which opened back in 1971, includes animatronic versions of our countries leaders — and it's a historic part of the park. Unfortunately for him, Trump's robot looks a little distorted, causing Twitter user @Bornmiserable to replace some Trump photos with his animatronic double for a few laughs.
At the Hall of Presidents, animatronic Trump makes a speech during the presentation — which has caused a bit of an uproar itself, due to guests feeling the need to protest. Disney World might have anticipated a little bit of anger, as they actually installed spikes between the guests and the presidential show, helping keep things in line. (Politics aside for a second, it's important to remember that Disney World and Magic Kingdom claim to be "The Most Magical Place On Earth," so even though things have been grim, defacing property is probably a bad idea.)
That's why we're glad that @Bornmiserable decided to welcome the new animatronic in such a funny way. By replacing Trump in actual photos, it's just further proof that Disney's vision of Trump looks…nothing like him.
Here are some of our favorites.
This one is just horrifying.
There were so many memorable photos of Trump this year, that we're secretly hoping that @BornMiserable continues creating these masterpieces throughout 2018 — or at the very least, before the year ends. (It seems like he can create these pictures pretty quickly, so fingers crossed for a few more for New Year's Eve!)
Of course, if you want more, you could always make sure to stop by the Hall of Presidents and see the robotic Trump in action.