Someone mashed up "Hamilton" and "Game of Thrones," and it's everything we hoped it would be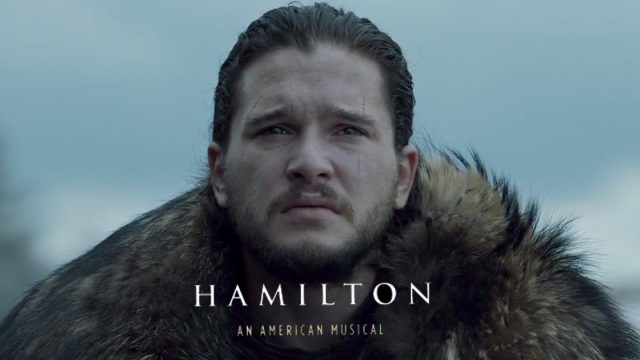 Perhaps in the back of our minds we had been craving this because when we saw that someone had mashed up Hamilton with Game of Thrones, we did a little scream and got very, very excited.
If you don't know, Hamilton is the Broadway phenomenon by Lin-Manuel Miranda that, last year, picked up 11 Tony Awards. The show, which is currently on tour, is a hip-hop musical about the life of American Founding Father Alexander Hamilton. Its songs have proven so popular that last year a bunch of stars, including Sia and Kelly Clarkson, teamed up with Miranda to record new versions for a special mixtape.
https://www.youtube.com/watch?v=MdBws54ZHyY?feature=oembed
Another one of our loves, of course, is Game of Thrones, which has recently just returned for its seventh season.
But what happens when the two worlds of Hamilton and Game of Thrones collide?
Well, YouTube user Jason Feifer has shown us exactly what can happen.
Taking Lin-Manuel Miranda's opening lines from Hamilton ("How does a bastard, orphan, son of a whore and a Scotsman, dropped in the middle of a forgotten spot in the Caribbean, by providence impoverished in squalor, grow up to be a hero and a scholar?"), Feifer switches it up and makes it about Jon Snow's origins ("How does a bastard son of a Stark and a Dragon, born in the middle of a forgotten spot in Dornish mountains, by providence subjected to endless slander, grow up to be an undead Lord Commander?").
Elsewhere, Daenerys Targaryen and her lengthy campaign to return to Westeros and reclaim the Iron Throne get a mention, too.
https://www.youtube.com/watch?v=lYnPcEkVDHM?feature=oembed
Okay, so this might be the greatest thing ever. In fact, we're totally feeling that there should be a Game of Thrones musical ASAP (although, if it were to cover every plot line it would be a very, very, very long show).
In fact, while it might not be Game of Thrones, Lin-Maniel Miranda *is* working on a fantasy TV show that could fill that Thrones-shaped holes in our hearts.
It was announced last year that he would be teaming up with Patrick Rothfuss for the adaptations of the author's popular Kingkiller Chronicle novels, which are being turned into movies and an accompanying TV show.
Until then, however, we're going to be bopping to this Hamilton/GoT mashup!