Someone Great reminded me to nurture my female friendships as much as my relationship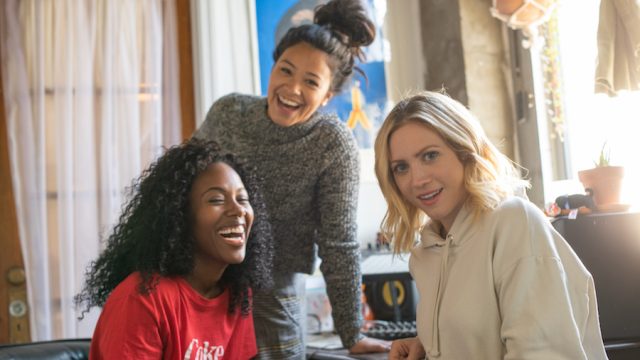 As I watched the first few scenes of Netflix's romantic comedy Someone Great, I felt the thrill of recognition. In the film written and directed by Jennifer Kaytin Robinson, central character Jenny (Gina Rodriguez) and I share a lot in common: We're both journalists living in New York City who are in long-term relationships that began in college. Montage sequences of Jenny and her beau look a lot like my own love story—kisses on the subway platform, late-night bodega trips, walks through Washington Square Park.
Then our stories diverge.
When Jenny gets her dream job in San Francisco, her partner of nine years dumps her and she recruits her best friends to go on an epic bender. The fundamental romance of this romantic comedy reveals itself to be the love shared between Jenny and her best friends, Erin (DeWanda Wise) and Blair (Brittany Snow).
I watched the movie alone on my couch with a bowl of popcorn nestled in my lap. I occasionally paused to check on my boyfriend who was battling the flu in the next room. We've been together for nine years. I am incredibly grateful to be in a relationship wherein bouts of illness are fought as a pair—there's always a live-in nurse to make you chicken soup and deliver tea—but I felt envious of those female friendships on screen.
Jenny, Erin, and Blair are actual #friendshipgoals. They're the kind of pals who strike the perfect balance of calling each other out on their shit and knowing how to cheer each other up with just a look. "All I feel for you right now is love coursing through my veins and I want to hug it out," Erin says to Blair after an argument. They have dance parties and fashion shows in their apartments. They encourage one another to drink tequila and tap into their wild sides.
I got to thinking: If my life as I know it were to change tomorrow, who would be the magical wing women to swoop in and help me?
Who would comfort me when I had the flu? Or even worse, who would mend my broken heart? The last decade of my life has been more date nights than girls' nights out, so I didn't have an answer.
The thing about college relationships is that they can be all-consuming. A freshman year romance is a magic solution to the herculean task of making new friends. It's a salve for homesickness. A first love is filled with a lot of, well, exciting firsts. While my boyfriend and I were building our very own supercut amidst the backdrop of New York City, other friendships in my life became subsidiary. Graduation came and went, and somewhere along the way, time spent with other friends became relegated to birthday celebrations and special occasions.
Reader, I need you to know that I have friends. Some pretty great ones, actually. But my high school comrades are scattered around the globe, my college roomie is in London, and my core friend group in New York is shared with my boyfriend. All of this is to say that dates with girlfriends are few and far between, and many of my friendships are in need of some stoking.
Someone Great inspired me to get on it. I challenged myself to be more intentional with my social calendar, to make plans, and to keep them. (My idea of fun is a little more PG than that of the Someone Great trio: There was no molly popped or joints rolled as part of my friendly experiment.)
I invited two high school friends to meet me in the city, and we spent a rainy afternoon at an interactive museum posing for silly pictures and wading through a ball pit. The rest of the day included some lingerie shopping and lots of laughs.
I also went to a book launch with a dear friend, and we ended the night talking about novels over negronis and french fries.
I planned an early-morning Skype check-in with my friend who lives in Germany, something we now plan to do on a regular basis.
A post-work happy hour with a group of ladies turned into a Lower East Side romp, an 11 o'clock three-course dinner, and, well, a mid-week hangover. It was worth it.
These few friend dates were some of the most meaningful social encounters I've had in awhile.
By intentionally focusing on these relationships, I've realized the crucial role that female friendships have in my life.
Yes, pitchers of margaritas were consumed, but there were also discussions about a friend's recent first date, advice to another about how to ask her partner to move in, and encouragement to negotiate a salary raise. Our conversations covered money and self-care and sex and mental health. Beauty products were recommended, recipes were swapped, secrets were spilled. These are topics that don't come up as pillow talk with my partner.
Someone Great may not have a typical happy ending for a romantic comedy. But it does have an indisputable happily ever after: Jenny, Erin, and Blair's love will endure. And I have a feeling that my book club, yoga class, and hiking plans with friends—and the girls' trip now on my calendar—will help my friendships endure, too.