Somebody painted Disney's Moana out of a turkey and it's both beautiful and confusing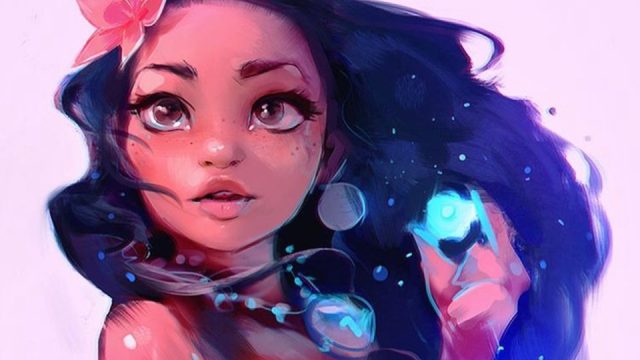 Disney's latest blockbuster hit, Moana, has been sailing past previous box office records and is quickly becoming the movie to see ASAP. While we are not at all surprised since it looked straight-up amazing from the previews alone, what is surprising is how creative people are getting about celebrating the Polynesian princess.
One artist, Ross Tran, combined his love for Moana with his love for the holidays and created an epic digital painting.
Inspired by a Thanksgiving-style turkey, he showed the step-by-step process of how he created an absolutely beautiful drawing of the Disney princess and we are in awe of the results.
Looking up to the heavens, Moana looks absolutely stunning in this portrait. Yet, she has a lot of turkey in her colorful foundation, as Tran shows in another post.
Only the most talented artist could create an absolutely gorgeous Disney princess from a basic holiday meal.
Luckily for all of us, he outlines the step by step process of how he did this impressive feat in a YouTube video. Though he makes it seem easy because he's clearly a gifted designer, it is intricate and mesmerizing to watch.
https://www.youtube.com/watch?v=dfwh1pGFCAw?feature=oembed
Basically, Tran starts with a separate sketch of Moana and then uses the color scheme of a Thanksgiving turkey picture for an incredible final product.
Just the amount of detail he puts into the eyes alone in his drawing shows how meticulous (and awesome) this artist really is. We have to give major props to Tran who uses these two very different images as a creative challenge to himself. It seriously paid off with this delightful final product.