The trailer for Netflix's upcoming food and travel show will make you salivate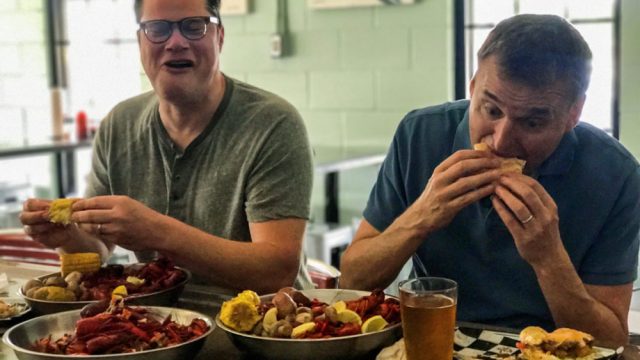 Are you a fan of travel shows? Are you a fan of food shows? Then omg, get excited, because Netflix has a new one coming soon and it looks like it lives at the intersection of delicious and awkwardly hilarious, meaning WHAT MORE COULD YOU ASK FOR? Netflix's new show Somebody Feed Phil follows *seasoned* producer Phil Rosenthal, aka the creator of Everybody Loves Raymond, as he travels the world with his signature sense of humor, eating what appears to be everything in sight.
Since we also love traveling and eating everything we can possibly get our hands on, we understand, and are also extremely jealous. As for what to expect, the show seems best summed up by something Phil says in the trailer:
"I find a new place, see what everybody's eating, and sometimes miracles happen."
These miracles look delicious, and the trailer makes us so hungry, TBH. We're definitely going to watch it and keep a running list of all the places we need to visit and the things we need to eat while we're there, because Phil clearly knows what's up.
Check out the trailer below:
But maybe only immediately after you've eaten so you don't end up totally starving.
https://www.youtube.com/watch?v=Zv29Sjt7LnA?feature=oembed
We've got a lot of questions about the guy in the street eating the snake, but otherwise, everything about this show looks super enjoyable. We'll even put up with the intense FOMO we're sure to get watching Phil's foodie adventures.
Somebody Feed Phil lands on Netflix on January 12th, so mark your calendars.