Solange just teased new music on Snapchat and we're already obsessed
How dreamy would it be to attend a party where Solange is the DJ? She always seems to be the life of the party, her free spirit guiding her spinning skills. What's even dreamier is the thought of grooving to a full album featuring the new music Solange teased on Snapchat.
The 30-year-old singer/fashionista extraordinaire recently took to the social media site to share a snippet of a new song and video with her fans, Idolator reports. In the clip, we hear Solange's soulful vocals over a beat that's giving us major retro vibes. If you're familiar with the singer's past music, you already know that much like her fashion sense, Solange's sound doesn't necessarily fit into one genre, so we'll just stick to the most fitting label we can think of after listening to the teaser: awesome!!!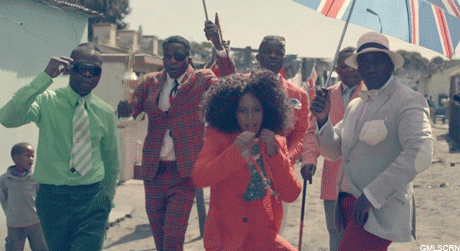 Although it's only a glimpse, Solange also treated us to some upcoming visuals in which she sports voluminous, flowy hair and gold body paint à la Teyana Taylor in Kanye West's "Champions" video.
https://www.youtube.com/watch?v=si3H3LzD4Ao?feature=oembed
OK, so this 18-second clip has us so freakin' hype. Maybe because it's been nearly four years since Solange released her EP True. Our playlists have definitely been missing that special spunk that her music brings so we're absolutely looking forward to hearing more of her new sound.