Solange just called out a magazine for photoshopping her hair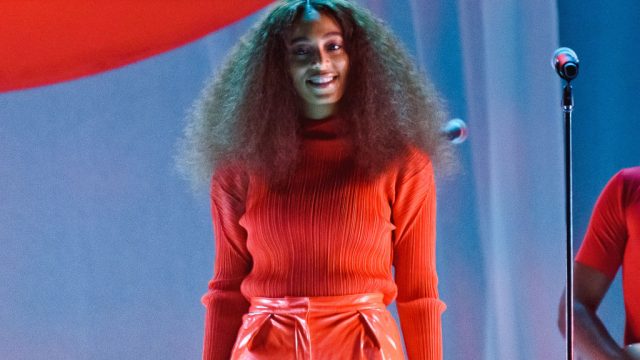 Not only have we been blessed with Beyoncé, but we've also been blessed with Solange. In the case of the latter, we've been especially blessed by her most recent comeback that centers around a simple statement: don't touch her hair. She's serious about this, too, so serious that she even has a song on her third album called "Don't Touch My Hair." Yet, the Evening Standard did not listen, as evidenced by Solange's cover photo.
The magazine noticeably edited a blonde, braided halo that Solange wore during the editorial, and let's just say that the singer noticed — and she didn't seem too happy about it.
https://www.instagram.com/p/Baa6PgAAAv_
When you take into consideration the way Solange describes hair and hair braiding in the interview, as "an act of beauty, an act of convenience and an act of tradition," then you start to understand why the singer was so upset at the use of Photoshop. So of course, the artist did what she does best — she made a statement.
Solange posted the original photo the Evening Standard used, halo still intact, and captioned it with "dtmh," or "don't touch my hair."
https://www.instagram.com/p/Bab6yVZhESx
The halo braid was not only an intentional choice, aesthetically. What it represents to Solange, and to other black women who braid their hair, is much deeper. In her song "Don't Touch My Hair," the creative explores this, saying,
"Don't touch my hair, when it's the feelings I wear. Don't touch my soul, when it's the rhythm I know. Don't touch my crown, they say the vision I've found. Don't touch what's there, when it's the feelings I wear."
https://www.instagram.com/p/BaeCzuKhXTF
Hair braiding was an integral part of this woman's life while she learned and grew, helping her find beauty in transformation and glamour, which she talks about in the interview. With this in mind, we're not sure why Evening Standard chose to erase Solange's halo, but we hope they got the memo to never touch her hair again.