Everything you need to know about Florida water, Solange's witchy Met Gala accessory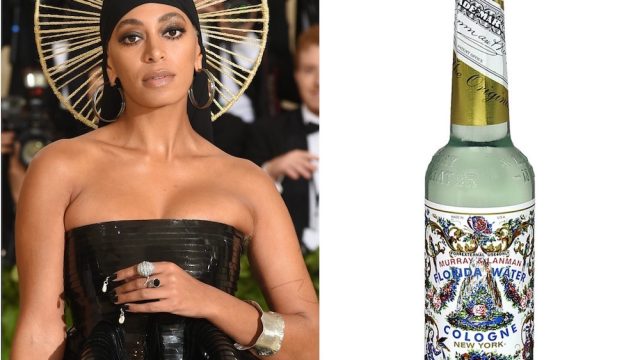 The 2018 Met Gala brought us lust-worthy fashion ensembles that were filled with Catholic symbolism. After all, the theme of fashion's biggest night was "Heavenly Bodies: Fashion and the Catholic Imagination." And while celebs wore their Sunday best, a few took the theme to the next level by incorporating hidden messages and metaphorical accessories that made a statement. Case in point: Solange Knowles carried Florida water in her crystal-netted bag.
Solange's entire Met Gala ensemble had significant meaning and it was definitely on theme. She wore a black du-rag with a gold-encrusted halo headband, an Iris van Herpen latex dress (which was picked through a Twitter poll Solange posted), and she even added a giant obsidian sphere in her Swarovski bag. The obsidian sat under her Florida water, which Solange carried in her black handbag.
But if you're still scratching your head on what the heck Florida water is, we're here to break it down for you. Because Solange's attention to detail didn't go unnoticed, and her inclusion of the spiritual bottle has a deeper meaning.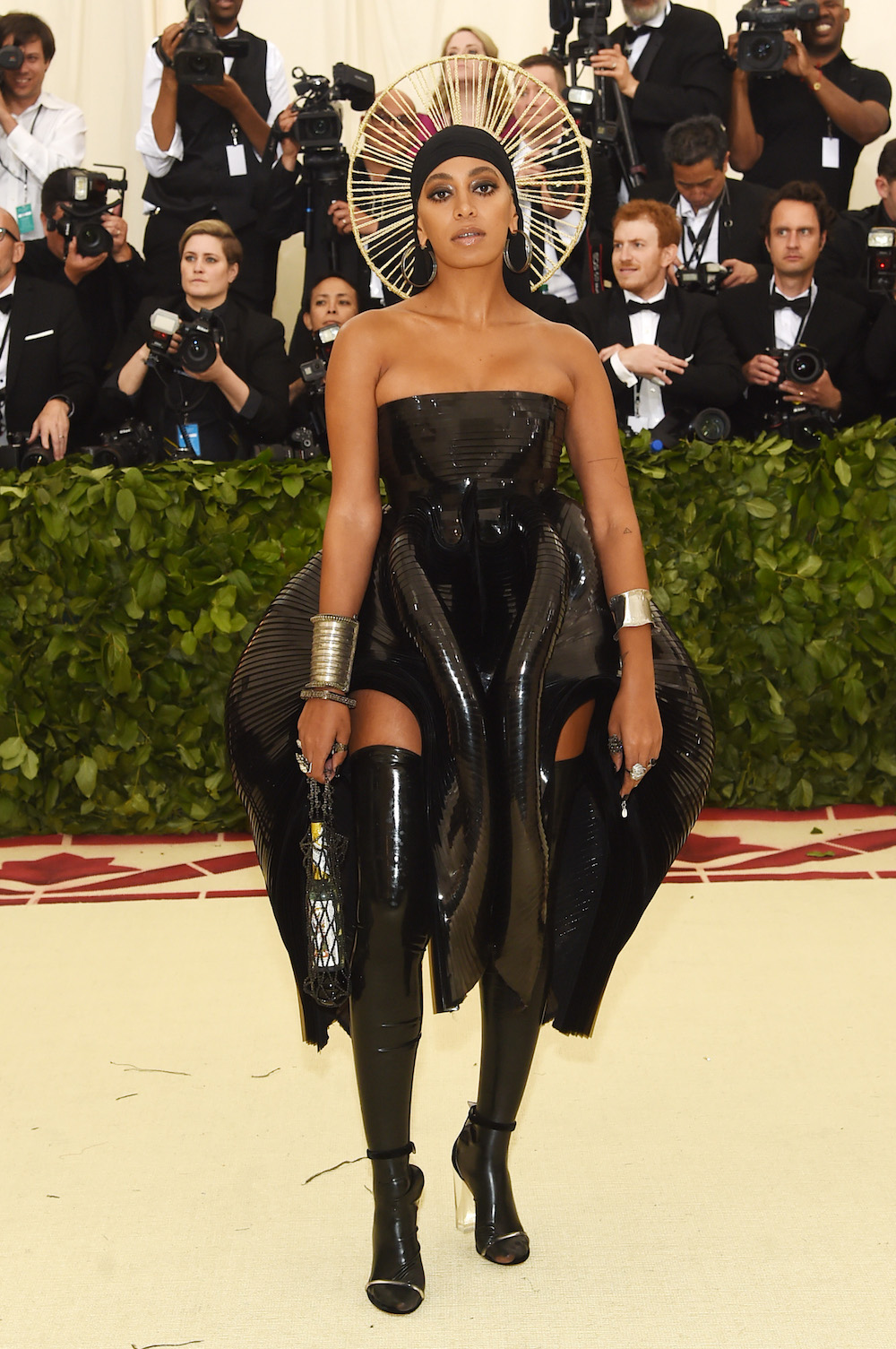 What exactly is Florida water?
In the same way that people use sage to cleanse their surroundings, Florida water is used similarly. Even though water is in its name, it's actually an alcohol-based cologne that can be found at drugstores and botanicas at an affordable price. You can even find it at your local Walmart. It's made with a base ingredient of alcohol, and a blend of dissolved essential oils like lemon oil, orange oil, and lavender oil, according to the Original Botanica.
How do people use Florida water?
People often use it for spiritual cleansing and spell work. However, according to the Original Botanica, it has multiple purposes. The site reports that Florida water is used for ritual offerings, purification, and cleansing negative energy. Some people believe that it brings a calmness to their mood, can help with depression, and encourage the expression of emotions.
HelloGiggles spoke to Gabriela Herstik, author of Craft: How To Be a Modern Witch, about the history of Florida water. She says:
"Florida water was created in the early 1800s and it's has been used in different spiritual traditions in ritual as a way to purify and cleanse. It can be added to a bath, used as a perfume, put on energy points like the third eye, sprayed in the air, and utilized to clean a counter to name a few. The citrusy scent of the cologne means that it's both energizing and purifying. It's also said to represent "the fountain of youth," which is supposedly in Florida."
We also spoke to Bri Luna of The Hoodwitch, who gave us tips on how to use Florida water ourselves:
"You can place bowls of Florida Water in your home in the corners of the room. This will help to ward of negativity and keep a high vibration within your space. My grandmother was a fan of using Florida water in the laundry. You can wash any new items that you bring into the home, especially thrifted pieces. Florida water will keep any attachments from lingering with the pieces."
So what could be the reason Solange included it in her Met Gala look?
The singer recently talked about the spiritual water and how it makes her feel. Just last month, she told Dazed about using Florida water, saying: "If I could burn my sage, and wash my hands with Florida water right there on the porch until I feel renewed."
Herstik tells HelloGiggles about the possible meaning behind Solange's Florida water, saying:
"The fact that Solange was carrying Florida water is significant. Not only was she protecting and blessing herself, but it could also be said she was keeping the bad energy/ haters away. Florida Water is used in Voodoo and Santeria practices, among other traditions, and could be considered like Holy Water in this respect. So let's just say she knew what she was doing in representing herself among the church-goers of the Met Gala."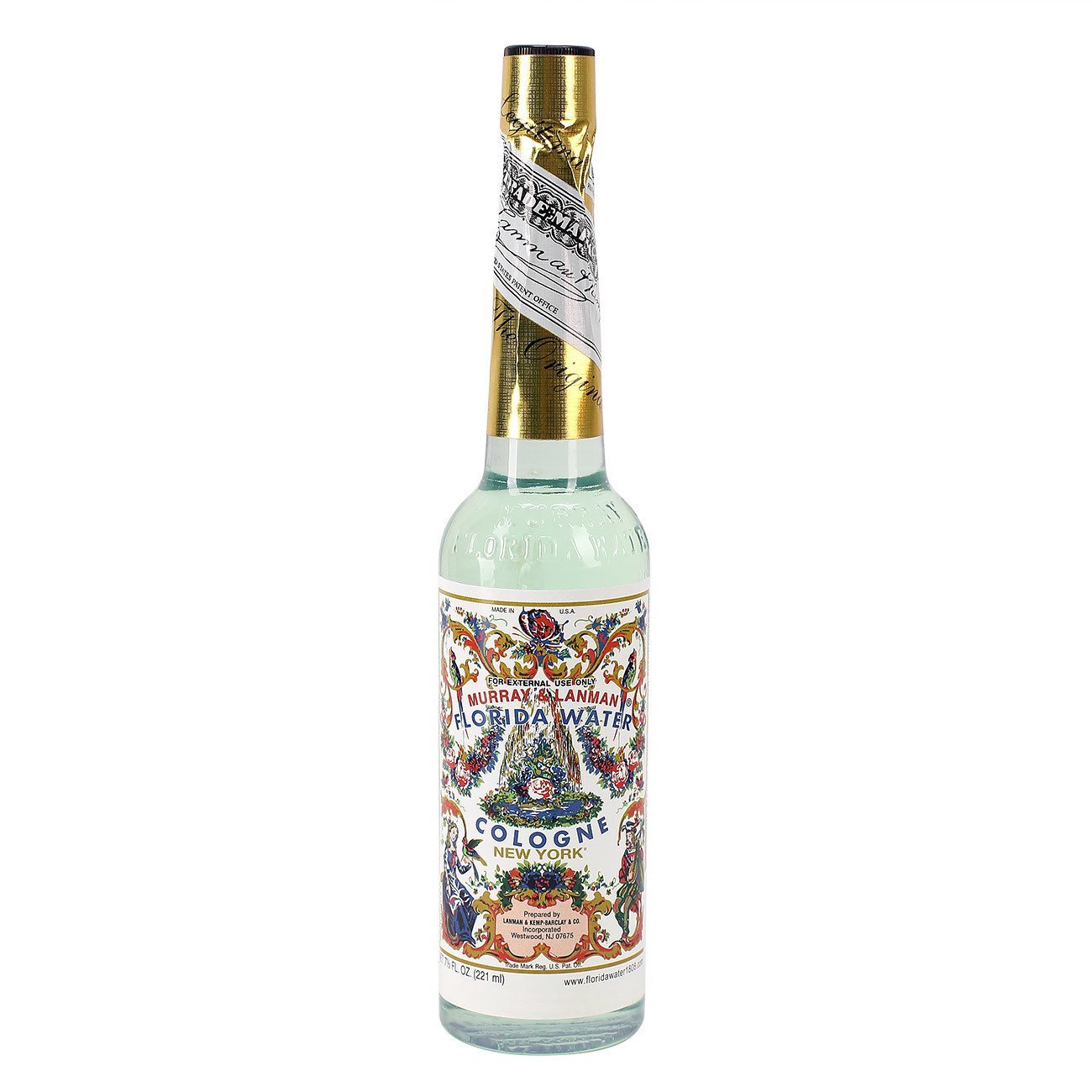 What's up with that obsidian sphere?
And if you're wondering about that obsidian sphere, Luna says that the stone is believed to offer protection for soft-hearted and gentle people of the world, is excellent for grounding energy and getting rid of stress, and can be used to help block negativity of any kind. She warns, however, "People should be careful — this stone is no joke and works extremely fast and with great power! Obsidian purges and brings your deepest hidden secrets to light." Luna adds if you're apprehensive or a beginner to crystal healing with obsidian, try using snowflake obsidian or rainbow obsidian. "These stones are less shocking to the system and psyche and offer firm but gentle healing," she says.
https://www.instagram.com/p/BigMDCHFjIq
While we now have an idea on why Solange added the Florida water and obsidian sphere to her 2018 Met Gala ensemble, all we can say is that the singer's attention to detail paid off, because all eyes were on her. In short, we're sending her good vibes only.