Solange just landed her first #1 album and we're feeling *so* emotional about it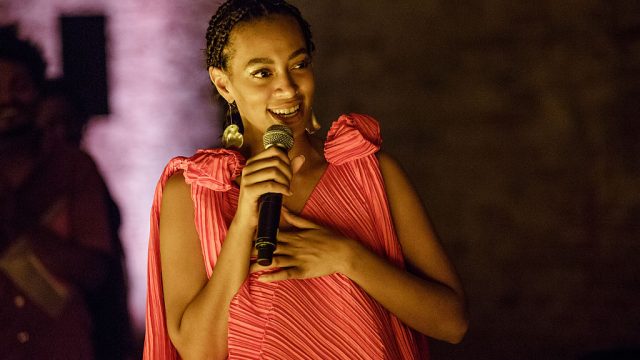 Less than two weeks after dropping her first album in eight years, Solange has nabbed a hard-earned seat at the top of the music charts. According to Billboard, A Seat at the Table is officially Solange's first #1 album and we couldn't be more thrilled! Pardon us while we break out into an impromptu champagne-sippin' dance session because this news instantly puts us in a celebratory mood.
The 30-year-old singer/songwriter is no stranger to making wonderfully raw and spiritual music, so we are totally digging the fact that she's finally on the receiving end of some much-deserved recognition with her latest release.
Judging by the overwhelmingly enthusiastic response to A Seat at the Table, Solo definitely won't be toasting to her huge success alone. ET Online reports that Solange and Beyoncé are the first sisters to have #1 albums. false
Practically every celeb on the planet completely freaked out over Solange's new album, but perhaps the sweetest co-sign came from her mother Tina Knowles, who congratulated her daughter with a beautiful Instagram post. She even included the most heartfelt (and accurate) review of A Seat at the Table that nearly brought us to tears.
"It is an awesome, socially conscious, beautiful to listen to, Delicious to look at, (the visuals are amazing Art pieces, thought provoking to analyze, (the lyrics are clever , funnny, relatable and deep! The message is one of pride, anguish, frustration and triumph. She did the damn thing. A must hear!" she wrote.
Sigh. So who else is feeling weepy after reading that? It's abundantly clear why Solange dedicated her new album to her parents because Knowles is definitely #momgoals.
If you're knee-deep in your feelings like we are, prepare for even more emotion because Solange recently blessed us with a behind-the-scenes look at her album making process and it is also absolutely everything.
https://www.youtube.com/watch?v=KqpZYAKJQko?feature=oembed
Dammit, Solange. You just made us cry again. Congrats!