Sofia Vergara's Memorial Day party is the real winner of the three day weekend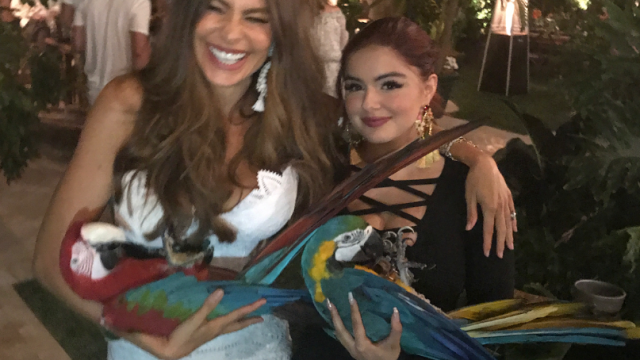 Usually on Memorial Day, we go to some kind of party. We tend to have hamburgers, hot dogs, and maybe a few beers by a pool or on the beach. For us peasants, this is a good time, and we go home satisfied. But, you might not feel as good about your Memorial Day weekend shindig after you see the bash Sofia Vergara threw. She has put us all to shame. Shame!
The Modern Family actress threw a "Paraíso Tropical" themed party, which you probably can guess translates to, "Tropical Paradise." Vergara didn't leave ANYTHING out.
Here's Vergara getting ready for the party:
She also shared a photo of some of the details of the get-together. How beautiful are the flowers?! And the table settings!
As the party began, the stars started to roll in. We've got here Jesse Tyler Ferguson and husband Justin Mikita! ALSO A MERMAID. A MERMAID, PEOPLE.
Then, we have her hubby Joe Manganiello and The Lone Ranger star Armie Hammer. If you flip through, you'll also catch Ty Burrell, Ariel Winter with boyfriend Levi Meaden, and more shots of Tyler Ferguson!
And here we have her guests holding LIVE BIRDS and a shot with co-star Ed O'Neill (on the next slide)!
What did the guests eat? A TON of delicious Colombian food. That's what. We're so jealous.
Here's Joe Manganiello just carrying a mermaid around:
LOOK HOW AMAZING THIS LOOKS! Side note, an appearance by Nolan Gould!
Sofia, of course, got down. How fun is she?
Manganiello was noticeably quieter on Instagram but did share one cute shot of the two of them. Aww! We love these two!
And all guests got cute little party favors on the way out:
Sofia, this party looked incredible. How does one go about getting on the guest list for next time? We promise that we're fun!