Sofia Vergara unsuccessfully trying to get on a pool toy is all of us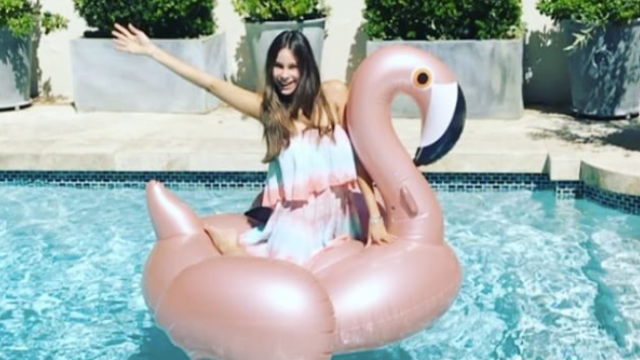 PSA: pool toys are hard to get onto…really, really hard. The best part is that Sofia Vergara trying to get on a pool toy is basically all of us, and now we feel a forever kind of bond with her.
Music festival season has officially begun and summer is just around the corner. Both of these things call for one major pool accessory…the pool float!
Over the past few years, celebrities have made floating and riding pool floats looks SO fun and fabulous. While they are definitely fun, it's not easy to get onto one of those giant floats. Seriously, it's like impossible to look cute while climbing aboard a floating inflatable swan.
On Sunday, Vergara posted a video proving that she too struggles to get onto her giant float. After watching this hilarious video, prepare to love the actress even more.
"I'm getting very good at it?? #Ihaveallsummer?," she captioned her pool video.
Yes, that is a bull float, and yes, we need it in our lives ASAP!
The Modern Family actress later posted a photo of herself successfully on the bull. Her hair, however, is still a mess, so clearly it wasn't an easy transition to get on her float.
In addition to her bull riding problems, the 44-year-old actress posted a series of pictures last week with another pool toy. This time she tried to get on her giant pink flamingo floaty, and it did NOT go very smoothly.
"Girls..this is how u graciously get on your pool bird??#gettingreadyforsummer???," she wrote alongside the photos.
Okay, Sofia, you are officially our spirit animal.
PS: Can we come over for a Vergara-Manganiello pool party soon? Please, and thank you!