The surprising way social distancing helped me heal from grief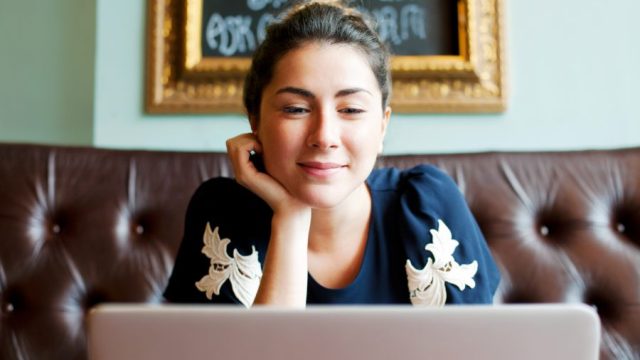 Trigger warning: This article talks about suicide.
In September of 2018, I moved from New York City to London for graduate school. The transition was difficult at first, but I hit a groove once school started and I made close friends with my roommates and course-mates. I adored London, and I began envisioning ways that I could stay after graduation and get a head start on my career in journalism. Then in the middle of my spring semester of 2019, I woke up in the middle of the night to my brother calling, telling me that Mark, my stepdad, had died by suicide. 
I'd known Mark since I was a teenager, and he'd become like a dad to me, a person who I knew would drop everything if I ever needed his help. He had a bigger-than-life presence, and he never let a moment become dull. So it felt like I was living a nightmare as I haphazardly threw a bag together, raced to the airport at 3 a.m., and eventually wound up in my hometown in Connecticut half a day later. I spent the entire month at home with my mom in her and Mark's suddenly quiet house, navigating the new murky waters of our lives.
The loss was massive, seeping into every corner of the house, every second of the day. There wasn't a thought I had that didn't have something to do with Mark for months.
When I eventually returned to London, the desire I once felt to stay in the country had vanished. I had only one goal in mind: to get back to Connecticut and be with my mom. After losing someone I loved so suddenly, I found myself terrified about someone else being taken away. I wanted to be as close to my mom as possible, irrationally thinking that if I was there, nothing bad could happen to her. I called her incessantly, often several times per day: on the walk to class, on the bus to my friend's apartment, on my walks through Greenwich Park. I stayed in London for a few months just to finish classes. Then, eventually, I moved back to the U.S. to live with my mom.
Losing someone I loved to suicide made me feel like an outsider when I was around my friends. Despite this flood of kindness, I still saw myself as an outcast. Whenever I was in a group, I felt like I was trying to fit in and partake in normal conversation. I selfishly assumed that others couldn't relate or understand. And while, socially, we've made strides in de-stigmatizing suicide, it's still hard to explain how you can feel so much fury, pain, and sorrow at once. So out of fear of overwhelming others with my grief, I often kept my thoughts to myself, which made me feel more isolated and estranged from others around me. Even though I found comfort from grieving at home, it felt like I'd become a walking rain cloud outside of the house. I didn't want to bring others down, so it felt easier to stay away.
Not long after I flew home, I started flaking on plans with friends who were still in New York. I offered half-baked excuses by vaguely citing "family issues" or saying my mom needed me. I started missing events, even those I was excited to attend: I postponed drinks with an old friend for weeks on end, left a best friend's birthday party early, and avoided spending weekends in the city. I was bailing on these events not because I didn't want to go, but because it just felt easier to stay at home where I could grieve openly. Plus, I always felt guilty when I went out—for leaving my mom, for potentially having a nice time, and for daring to be "normal" again.
I never felt pressure from my friends to act a certain way; my isolating behavior was entirely self-imposed. During this time, I felt like I stopped living. I hated that I was avoiding people who had been so selflessly good to me, friends who took time off work, traveled to my stepdad's wake, and constantly checked in on me when I was abroad. Every single person would ask me how my mom was and how my family was doing. They always accommodated and would patiently listen any time I did open up. 
After eight months of living with my mom, I decided it was finally time to look into moving out. I started fearing that the longer I allowed this way of living, the harder it would be to break. Then a friend offered for me to take a room in her rent-controlled apartment in New York. This opportunity falling into my lap made the idea of moving much easier, since my mom and I agreed it was an offer I couldn't turn down. 
Once I signed the papers and began buying items for my bedroom, I started feeling eager to live on my own again. Part of me was hoping it would put an end to the closed-off behavior I'd developed. Weeks before the move, I started dreaming of going to happy hours, group Bachelor viewings, concerts, and everything else I used to enjoy doing with friends.
And then the coronavirus (COVID-19) pandemic hit. New York went into lockdown days before I was supposed to move, so I stayed put at my mom's house and couldn't follow through on the gatherings I'd envisioned. I felt deflated, as though putting off my move was also putting my life on hold.
I kicked myself for wasting all those previous opportunities to be with friends, now wondering how long it would be until I could see them again.
When my friends started to suggest having Zoom parties or virtual happy hours, I began to feel hopeful. I could see all my friends but didn't have to face the guilt or fear of leaving the comfort of my home? Sign me up. Suddenly, I was hopping on happy hour calls with my study abroad friends, video chats with my college roommates, and Netflix viewing parties with my buddies from home. Before I knew it, I had plans scheduled throughout the week, and I was spending Sunday afternoons playing virtual games with my brother and future sister-in-law.
Virtual hangouts allowed me to dip my toes back into the world of socializing and remember what it was like to laugh with friends again. I left video chats feeling satisfied, as though the gap I'd created between myself and others in my own mind had started to close. Even though I wasn't pouring my heart out about my feelings, just casually chatting with my friends lifted my spirits. It made a massive impact on my mental health, especially since each video call took me out of my own head for a couple of hours. I started to realize how harmful closing myself off from the world had been to my well-being. Looking back, I realized there was no reason to feel outcast. In retrospect, I think I was failing to be patient with myself in readjusting to my new life. Because I wasn't instantly back to who I was before—a social, up-for-anything person—I thought that there was something wrong with me. Being around others just reminded me of that fact. By cutting myself off from seeing others, I spent days caught up in my own anxiety over the future, forgetting all of the lovely people who make life worth living.
I'm not sure what will happen when quarantine ends. I know it will still be a challenge to move out and grapple with the inevitable guilt I will feel from leaving my mom (even if she tells me a million times that she's okay). There will still be moments when I feel alone and isolated. But there will also be afternoons spent picnicking in Central Park, happy hours that stretch into the night, and karaoke rooms with unabashed off-key group singing. These are the moments that will remind me I'm not alone, even if I think I am. It only took government-mandated isolation to pull me out of my self-imposed one.
If I've learned anything from social distancing, it's how vital my friendships are to my well-being and how much I'd deprived myself of for months.
If you or anyone you know is dealing with thoughts of suicide, you can reach The National Suicide Prevention Lifeline 24/7 at 1-800-273-8255. You are not alone.