So THIS is how Lucy Hale pulled off the ultimate hair prank — frangs, aka fake bangs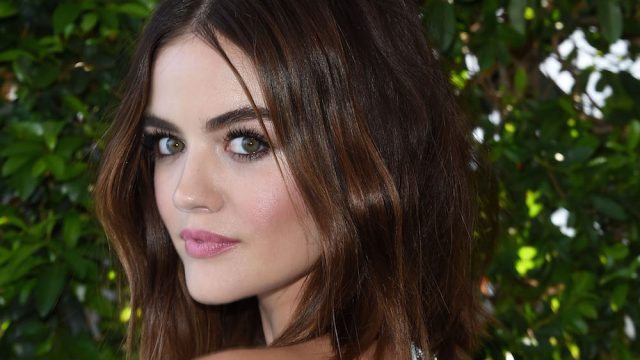 If there's something that celebs have access to that we are completely jealous of, it's having a hairstylist on board to constantly change up their looks for every event that might come their way. Feel like having short hair one night? Throw it up in a faux bob! Want long, hippie princess hair for the weekend? Here are some custom extensions, right this way! Unless you are a professional, have serious talent for hair, and an unlimited hair budget, it's unlikely this is your reality. But if you're, say, Lucy Hale, you've got bangs today, gone tomorrow!
Lucy's stylist, Kristin Ess, came clean to Elle magazine about her bang secrets and how she gets them to look so good!
Using V Bangs in a shade that matches her hair at the moment, Ess tapes and pins the fringe in, trimming them to perfectly frame and fit Lucy's face.  They look seriously cute on her, but with the $190 price tag on these babies, they're definitely not your every day expenditure!
Looks like Lucy's got them in several shades, and who can blame her? She looks seriously adorable in them.
We'd seriously consider getting them chopped if we looked as good as she did with these shaggy, sexy bangs!
And they couldn't be more perfect for the fall — delightfully '70s and chic!
Looks like Lucy isn't the only one getting in on the action, Jenna Dewan Tatum is looking seriously fly with her clip ins!
Do you think it's worth the investment to be able to have bangs on a whim? Or would you rather just chop them in and be done with it? Either way, they're cute as a button!