Katy Perry, Justin Bieber, and so many other celebs are sending support to bullied boy Keaton Jones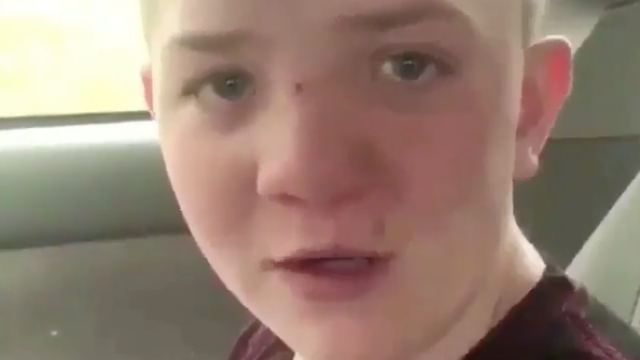 On Friday, December 8th, Kimberly Jones posted a video of her son Keaton in tears. Keaton, a victim of bullying, asks why people find joy in bullying others. His tearful video has gone viral, and celebrities, including Justin Bieber and Katy Perry, are sharing their support for Keaton on social media.
According to The Guardian, the Tennessee student had asked his mother to pick him up during the school day because he was too afraid to go to lunch. Keaton describes how his classmates had thrown food and poured milk on him. The video is heartbreaking to watch.
"Just out of curiosity, why do they bully?" Keaton asks in the video. "What's the point of it? Why do they find joy in taking innocent people and find a way to be mean to them? It's not OK...People that are different don't need to be criticized about it. It's not their fault. If you are made fun of, just don't let it bother you."
Keaton tells whoever is in the same boat to stay strong. It's hard, he notes, but he hopes it will get better one day.
His mother's Facebook video has reportedly been watched over 20 million times and Keaton's message has been spread over multiple platforms. Celebrities and others alike have started the hashtag #StandWithKeaton to share their support and love.
false
https://www.instagram.com/p/BcigRXeFEkI
https://www.instagram.com/p/status
https://www.instagram.com/p/status
https://www.instagram.com/p/status
Like Keaton himself mentions in the video, his bullying story is sadly one of many. The good news is there are absolutely ways we can all help make the world a kinder place each and every day. Visit StopBullying.gov to learn more about how you can contribute to bullying prevention. We stand with you, Keaton.