That "Snowpiercer" TV show is happening, but it's a prequel – so no Chris Evans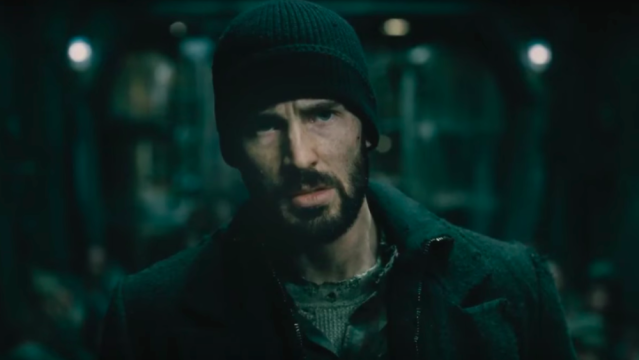 If you're a fan of Chris Evans (and let's be real, who isn't?) then you're probably on the lookout for any of his movies, shows, or appearances to feed your Chris addiction. And while many were hopeful that a TV show based on his 2013 movie, Snowpiercer, would see Evans back on their screens, that isn't exactly the case. You see, that Snowpiercer TV show is happening, but it's a prequel.
Which is to say, there won't be any Chris Evans in sight. *Sigh*
As Variety reports, the new Snowpiercer series will air on TNT and will star Jennifer Connelly and Daveed Diggs. While of course it's unfortunate that Evans won't be on the show, that doesn't mean it won't be just as good as the original Bong Joon Ho movie of the same name. But in case you missed the movie or forgot what it was about (which, considering the fact that it's been five years, is totally understandable), fret not. Really, the premise is pretty simple.
According to Deadline, the Snowpiercer seriestakes place about seven years after the world has been turned into a giant, frozen tundra and "centers on the remnants of humanity, who inhabit a gigantic, perpetually-moving train that circles the globe. Class warfare, social injustice and the politics of survival are questioned in this riveting television adaptation."
https://www.youtube.com/watch?v=nX5PwfEMBM0?feature=oembed
And while it's unfortunate that Evans won't be part of it, we have high hopes for an ah-mazing show.
Seriously, Connelly and Diggs are powerhouses in their own right, and their character descriptions have certainly piqued our interest. Per Entertainment Weekly, Diggs' character goes by the name of Layton Well, who is also "a prisoner barely surviving the harsh conditions in the tail end of the train." Deadline also reported that Connelly will play "Melanie Cavill, a First Class passenger who works as the Voice of the Train — responsible for making the daily announcements over its PA system."
Even without this beloved Hollywood Chris, this TV show adaptation of Snowpiercer is one we don't want to miss!