Pete Davidson unveiled his Hillary Clinton tattoo, and her response was everything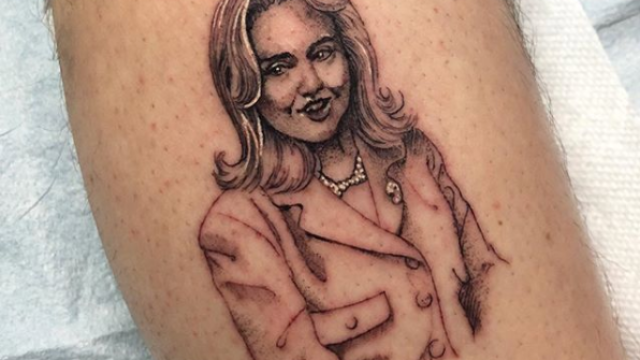 Actor and Saturday Night Live comedian Pete Davidson is a huge Hillary Clinton fan — so much so, he just got her face permanently inked on his leg. Which means he's with her, like, forever.
Davidson, who recently opened up about his borderline personality disorder on SNL, shared the Hillary Clinton tattoo on Instagram. His caption read: "Wanted to get @hillaryclinton a Christmas gift so I got a tattoo of my hero. Thanks for being such a badass and one of the strongest people in the universe."
How sweet is that? But the story gets better. Clinton herself saw the post and commented…and her response is EVERYTHING.
"Thanks, @petedavidson," wrote Clinton, who shared her most uncomfortable moment of the 2016 presidential election at the Teen Vogue Summit earlier this month. "This makes it significantly less awkward that I've had a Pete Davidson tattoo for years. But seriously, I'm honored. Merry Christmas my friend."
Davidson has no doubt met his hero in the past. Clinton made multiple SNL appearances during her presidential campaign. Our favorite? The one where she played bartender while Kate McKinnon assumed the role of Clinton.
Inked by talented New York City artist Jon Mesa, Davidson's Hillary Clinton tattoo features a younger version of the politician and former secretary of state, but it's still peak Clinton — iconic pantsuit and all.
Without further ado, here's the tat in all its democratic glory.
https://www.instagram.com/p/BcvERVQHs58
Mesa also shared a photo of his original sketch, alongside a nickel for scale.
https://www.instagram.com/p/Bcx8zq9FHrw
Needless to say, many people have weighed in on the polarizing Hillary Clinton tattoo on Instagram. But despite the haters, Davidson seems happy with his decision.
Props to Davidson for sharing his Clinton support with the world! She's got to be feeling the love, wouldn't you say?