Robert De Niro and Ben Stiller give a sly nod to their classic Meet the Parents scene in SNL cold open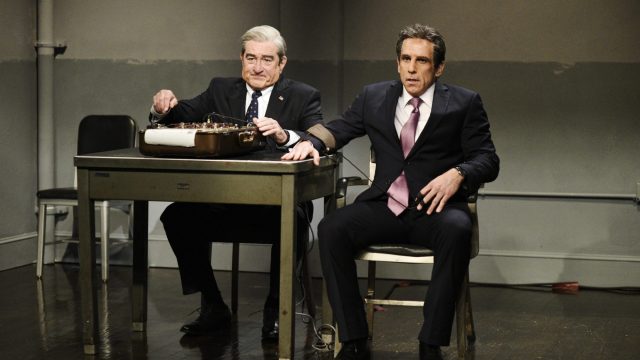 It's been another busy week in the Trump administration, which meant it was another busy week for the Saturday Night Live cast members. In a surprise twist, actors Robert De Niro and Ben Stiller participated in an SNL Meet the Parents parody for last night's cold open, in which they played special counsel Robert Mueller and Donald Trump lawyer Michael Cohen, respectively.
The cold open started with the hilarious Kate McKinnon returning in her unnerving impression of Attorney General Jeff Sessions and Beck Bennett as Vice President Mike Pence. The two are discussing the previous week, including the FBI raid on Cohen's office and home.
Cohen (who in real life reportedly paid adult film star Stormy Daniels $130,000 in exchange for her silence about her alleged affair with Donald Trump) arrives to tell Sessions and Pence about how nervous he is.
"Well, if you have nothing to hide, then you have nothing to worry about," Pence reassures Cohen.
"Is that a joke?" Stiller's Cohen replies. "You know how much evidence I have in my office? I'm Donald Trump's lawyer! I got a whole hard drive that's just labeled 'Yikes.'"
Cohen then goes to meet with Mueller, played by De Niro in some impressive prosthetics. It's then that the cold open launches into the SNL Meet the Parents portion of the skit.
"Have you ever used a lie detector before?" De Niro asks, referencing the comedy's famous lie-detector scene.
"I feel like I have," Stiller responds nervously.
The SNL Meet the Parents parody addresses the Stormy Daniels controversy head-on.
Stiller's Cohen finally admits he paid Daniels the $130,000, but claims it was a "gift."
"So you threaten people?" De Niro's Mueller clarifies.
"Directly?" Stiller asks. "No, but let's just say I've cut a lot of letters out of a lot of magazines."
Watch Ben Stiller and Robert De Niro in SNL's hilarious Meet the Parents-themed cold open here:
https://www.youtube.com/watch?v=kXIF2FQpgjM?feature=oembed
Honestly, these Saturday Night Live skits give us life. The current state of American politics might be abysmal, but at least the current state of SNL is ah-may-zing.