"SNL" hired three new cast members for Season 42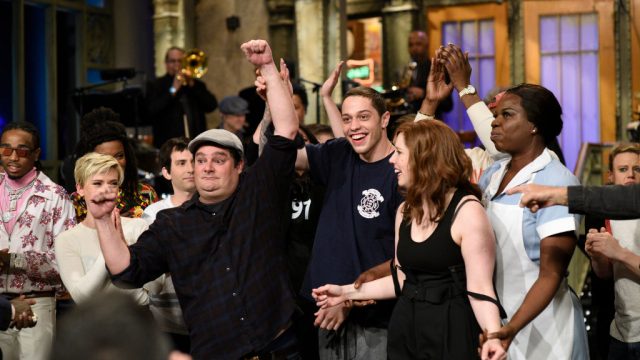 The 43rd season of Saturday Night Live will premiere on September 30th. So in prep for the beginning of this hilarious new era, SNL has announced its newest cast members.
Heidi Gardner, Luke Null, and Chris Redd will make their debut on the season premiere this Saturday. The three are taking over for Bobby Moynihan, Vanessa Bayer, and Sasheer Zamata, who left the show at the end of last season. As for the rest of the cast, they will be returning, as Vulture reports.
You may or may not have heard of the new cast members, but that doesn't mean they aren't ridiculously funny.
Rumors circulated last year that Redd would be joining the SNL cast for Season 42, but that was obviously one year premature. Prior to landing the role on SNL, he was also working pretty consistently. In 2016, he played Hunter the Hungry in Popstar: Never Stop Never Stopping. Remember him?
https://www.youtube.com/watch?v=sP-Qa8RmEgM?feature=oembed
He was also a member of Second City, does tons of stand-up, and had roles in Love, Wet Hot American Summer: 10 Years Later, and Disjointed.
As for Gardner, she came straight from the Groundlings' Main Company, where she wrote and performed sketch and improv. She's currently writing and performing on the Crackle animated show Supermansion.
https://www.youtube.com/watch?v=-vaYWWS4O0A?feature=oembed
Based on all the sketch experience she has, the move to SNL seems perfect for her. In 2018, she'll be appearing in Life of the Party, starring Melissa McCarthy, who also used to be a member of the Groundlings.
Null is relatively unknown when it comes to comedy, but he does have experience writing and performing at the iO Theater in Chicago.
https://www.youtube.com/watch?v=VR6GzO7UWwA?start=4&feature=oembed
Other than that, he's a regular dude from the Midwest who was a client-service specialist at a Chicago commercial real-estate company, according to Vulture. And now he's on SNL!
We're excited to see the new cast members in action.