The SNL cast lost their minds during this hilarious Fred Armisen sketch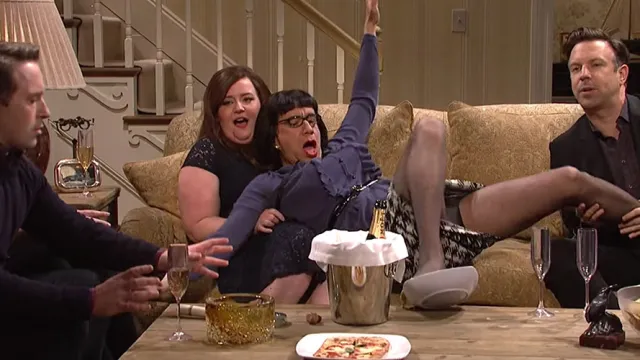 Last night, former Saturday Night Live cast member Fred Armisen hosted the show's season finale. Armisen — who was a cast member for a whopping 11 seasons — had several recurring characters, like punk singer Ian Rubbish and Garth of Garth and Kat, a hapless singing duo made up of himself and Kristen Wiig.
However, of all the glorious characters Fred Armisen portrayed, one of the weirdest — and therefore, funniest — was Regine. During Armisen's tenure, Regine appeared twice as the new girlfriend of the characters played by hosts Daniel Craig and Cristoph Waltz. Rather rude and pretentious, Regine and her beau usually grossed out audiences with their enthusiastic PDAs. Last night, however, Armisen's Regine took it to the next level; EW even comments that Armisen kept "contorting his body in outlandish ways."
During last night's show, former SNL cast member Jason Sudeikis played the boyfriend with whom Regine kept getting frisky. The pair of talented comedians/SNL veterans seemed to aim to outdo both previous Regine sketches, really going for broke with ridiculous physical comedy.
Cast members Vanessa Bayer, Aidy Bryant, Beck Bennett, and Kyle Mooney played the group of Sudeikis's friends who are at first bemused, then completely grossed out by Sudeikis's and Regine's antics. Well, that is, until they completely lost it cracking up at Armisen.
The current SNL cast members did well until Sudeikis's character moved to tickle Regine behind her knee. At that point, Armisen arched his back like a cat and dove into Bryant's lap, then placed his foot into a bowl of guacamole.
Byrant tried valiantly to keep a straight face, but was clearly suppressing some giggles. She continued to do so as Sudeikis brazenly ate some of the guacamole after pulling out Armisen's shoe.
Next, Fred Armisen sat in Sudeikis's lap before raising his legs in a weird, writhing squat; Bayer's next line was punctuated by barely concealed laughter as she and Bryant both began to totally lose it.
Armisen upped the ante, standing too close to Bryant on her next line and making her giggle more. Both cast members continued to laugh as Armisen scratched Sudeikis's back, and he waggled his leg like a demented puppy.
It was honestly a mercy for Bryant and Bayer when the sketch ended, however, we know we could have watched that go on for AGES. Check out the sketch in full and be glad you don't have to try not to laugh: https://www.youtube.com/watch?v=