SNL cut a sketch about the Shape of Water merman and Adam Driver — and honestly, you need to see this to believe it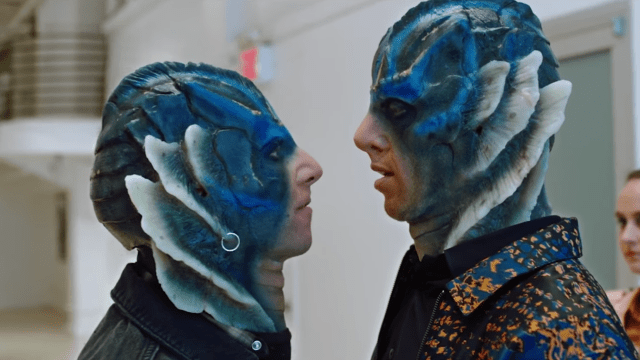 What happens when the Fish Man from The Shape of Water quits acting in order to follow his passion for art, only to end up a complete failure while his friend Ralph (John Mulaney) enjoys success — and a marriage to Adam Driver — with the career he turned down? Kyle Mooney explores this narrative in a devastating cut for time sketch from the most recent episode of Saturday Night Live.
As only he can, Mooney stars as the amphibious breakout star from The Shape of Water, in the insanely weird and tragically funny "Fish Dreams" sketch. Looking peculiarly like a fishy Ben Stiller in their fish makeup, Mooney and Mulaney unpack the grueling world of passion projects — and the risks that sometimes don't come with rewards.
In the imagined post-Oscars narrative, Fish Man is being pressured to follow The Shape of Water up with a sure-fire hit in Fishfellas — but really, he just wants to be an artist. But when his fellow amphibious actor friend Ralph scores the role Fish Man rejected, leading him to find love with Adam Driver and a hosting gig on SNL (in a wonderfully meta move), Fish Man is forced to confront whether he *really* made the right decision. Deep stuff, right?
Check out the bizarrely beautiful sketch below:
https://www.youtube.com/watch?v=_zR3jSfp__A?feature=oembed
Honestly though, tweak it a little bit and this sketch could easily be the dark, gripping indie drama that would likely land Damien Chazelle another Oscar.
While it's not entirely surprising that "Fish Dreams" got cut before air — as unfortunately, Mooney's off-beat (but generally funny) pre-taped sketches tend to get the axe — it still devastating nonetheless. For starters, they got Adam Driver to actually appear in the sketch and it still didn't make it to air. Driver's cameo aside, considering everybody and their improv group has spent the last year making jokes about The Shape of Water's Fish Man, we're kinda obsessed with this brutally tragic imagined future for the fictional character.
All the sketch needed was a sad cameo from a Sally Hawkins and it would be the E! True Hollywood Story we've been waiting for.