SNL found something even creepier than a birthday clown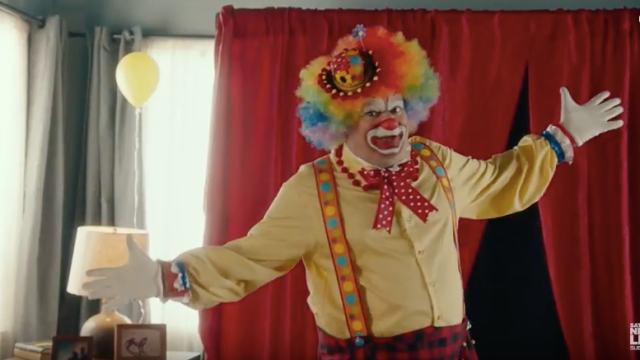 Leave it to the writers at Saturday Night Live to come up with something even creepier than a birthday clown. Louis C.K. clearly had a blast hosting the show last night, with sketches ranging from a takedown of Facebook activism, to an historic re-enactment where he and Kate McKinnon could not stop laughing.
But nothing really compared to a sketch that made us actually feel bad for a clown.
In a pre-produced segment with the feel and pacing of an episode of Louis, a birthday clown, played by Bobby Moynihan, shows up at a suburban home, ready to entertain "little Ernie."
"Yeah, that's me," Louis C.K. answers.
The 53-year-old Ernie invites Dodo the Clown in, and directs him to get started.
Dodo the Clown asks if he should wait for everyone else to join.
But no, it's just Ernie, celebrating his birthday solo.
Dismayed by both the awkward circumstances and the hints of anger in his hosts' demeanor, Dodo stumbles into his planned bit.
Though Ernie barely speaks, other than just a few inappropriate directives and monosyllabic responses, we learn a fair amount about his character. We know, with no exposition, that this is one volatile dude.
For his part, Dodo the Clown tries, in good faith to do his job.
But when Ernie watches a gag from the john, Dodo realizes the situation might be truly perverse.
Check out the full sketch:
https://www.youtube.com/watch?v=X-XuT5qKt00?feature=oembed
Honestly, we're still a little dicey on clowns. With that IT re-make coming and all those sightings last year, they just make us skittish.
Trust SNL to remind us that our prejudice should be directed at really scary people, not innocent birthday performers.
Hang in there, Dodo.